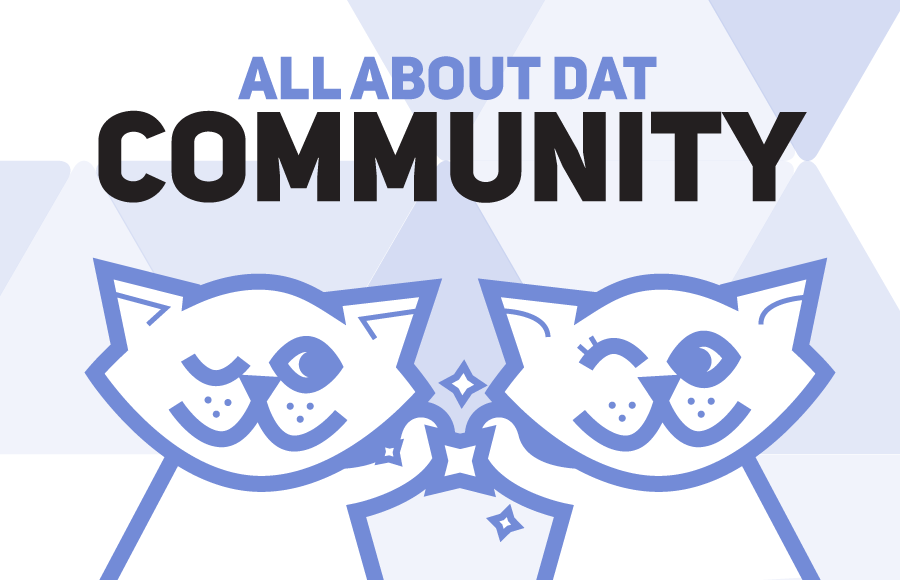 You're curious. You're not satisfied with the bare-bones of Discord's permissions capabilities. You've got tons of friends and followers, and you need a bit more than your standard server to foster the community of your dreams. This article's going to walk you through the next steps to evolve your basic Discord server into a formidable server.
We'll tackle all of that here. Before we dive in, you'll need to make sure you've mastered:
Setting up an advance server is a pretty tall order, so we'll break the process up into a few steps. We'll check out:
Creating a welcome/sorting portal
Assigning Main, Secondary, and Location roles
Creating "sub-channels"
Let's dive in!
Building from the ground up
Since the basis of our server is reliant on everyone having a set of roles, the easiest way to catch everyone is to have a designated channel for newbies to enter. That way no one slips by unnoticed, and it'll be much easier to keep tabs on everyone. Our goal here will be to create a welcome channel that will act as an entry "portal" for all that are new to start at, get sorted, and then access their designated parts of the server.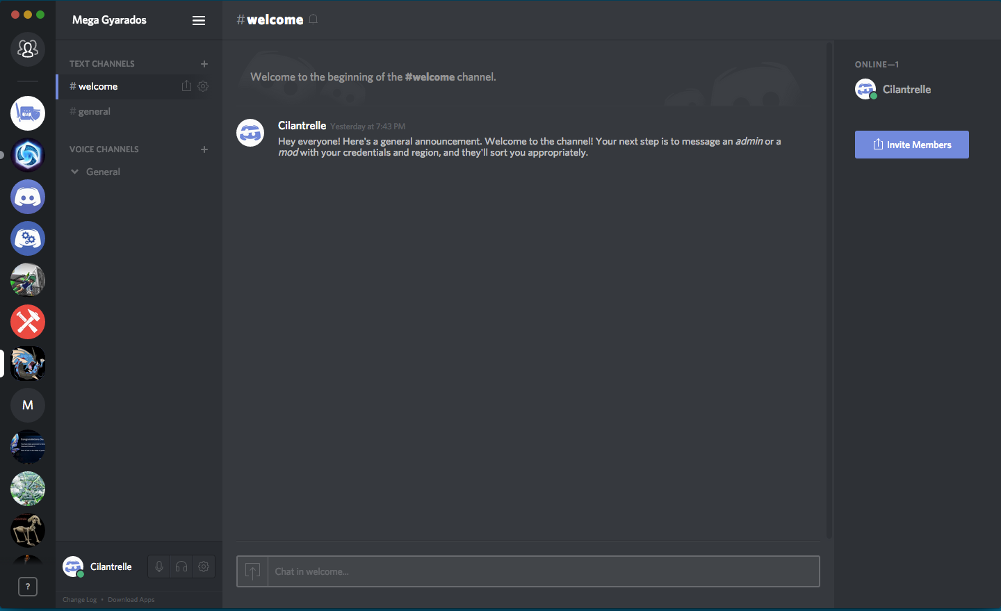 Building the framework for our server empire!
Awesome. Once our new server is up and selected, this will be the first channel we'll create. This welcome channel will be a dedicated announcement portal, with a permanent message telling new users how to sign up and get tagged appropriately. That'll be the only message in the channel, as any more information after that will be for sorted users, who have no business in the welcome portal anyways.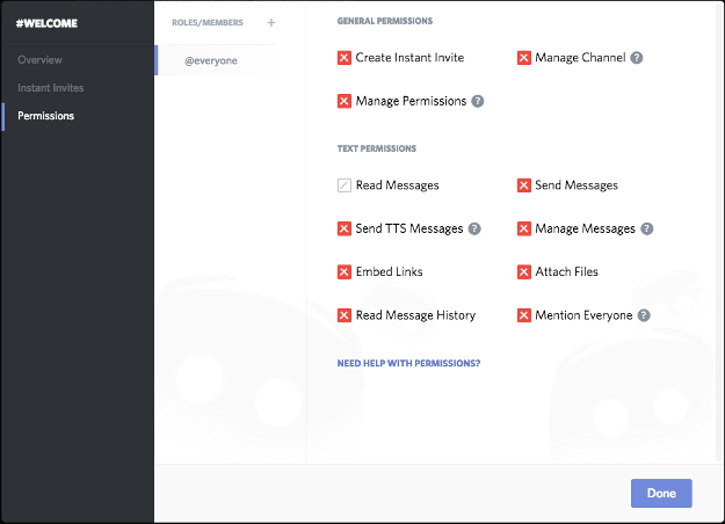 No other roles in here yet- we'll get to those in a second.
Since we want new recruits in the server to be able to read the welcome channel, but not message with any of the messages or add their own, we'll strictly allow them the "read messages" permission, but that's it.
Since the #general channel can't be hidden from newbies, we'll simply change it so that they can't read the general chatter from approved server users (by denying the "Read Message History" permission), and can't also contribute before being sorted (by denying the "Send Messages" permission). That's all that needs adjusting there: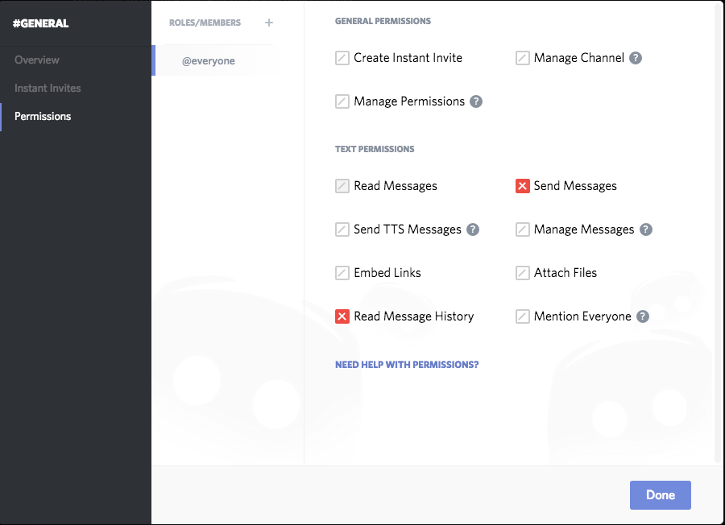 Now that we have a portal for our new recruits to funnel into, we need to sort them!
The Roles on the Bus go Role Role Role
The way our server's going to work, we'll have two separate types of roles. They fall into two categories:
Hierarchical: Everyone will have a "main" role that denotes their rank or position. (i.e. Admin, Mod, Team Captain, Player). A user may have more than one of these, depending on the roles they fill.
Exclusive: In our example server's case, each user will fall into one of two exclusive tags- NA, and EU. Since users aren't occupying both countries, and many games typically separate servers on the two continents, we'll keep them separate. This can apply in many other ways if you want to divvy up your server.
Status & Region Tags
We've got a welcome portal, on to the sorting! In our case, we'll focus on a couple of different roles that coincide with an eSports-oriented community. You can substitute these as you like:
Players- Anyone looking to play the game and discuss in our server
Team Captains- Players who are spearheading responsibility for a team of 2-5 people (including themselves)
Managers- Team administrators that focus on scheduling scrims (practices), recruiting players, and networking. Typically, though not exclusively, Managers aren't players. We can give anyone filling both roles both associated permissions as well. Since Managers > Players on the hierarchy, the Manager color & placement on the role list will be shown.
Content Creators- Entertainers and players who focus on avenues of gameplay sharable with other players, through mediums like streaming, YouTube video creation, and podcasts.
Moderators- Server authorities who answer to Administrators, have extra permissions to keep text and voice channels spam free. Moderators will have the ability to kick & ban members, manage channels and messages, and move members from voice channels.
Admins- Head Honchos who are responsible for upkeep and moderation of the server, calling the shots and engaging with all the other roles to keep the community fun, fresh, and interesting. They'll have all the same permissions as Moderators, but since we trust them so much, we'll give them the Manage Roles permission, which grants them the ability to edit any part of the Server.
Note: As we go through the server creation, we'll be filling in details and names with the goal of creating a generic competitive eSports server. You can substitute any of these roles or goals with others that ultimately fit the type of server you're looking to create. Be creative!
We'll color those tags because they're hierarchal- It'll be nice and easy to identify who's who based on their role color. The exclusive tags will be hidden, so that color doesn't quite matter. We'll split the regions in two: NA and EU.
The order of the roles in the role list isn't particularly important; As long as the regional tags are below the role tags, each member will have their respective color, and since the online list only reflects who's in the channel, the NA and EU players will be allowed only in their respective regional channels, but can still communicate in the general channel for cross-region conversation.
Implementing Region-specific Text Channels
Welcome channel? Check. Sorting roles and tags? Check. What's next? We've got the building, we've got the people, time to set up some rooms! In our case, we'll start by setting up 3 rooms: Scrims, Free Agent Center, and PUG's (PUG is short for Pick up group). We'll double those three rooms for both NA and EU, adding up to 6 rooms in total.
Setting these up will be pretty simple, with a few little tricks.
First, we'll disable the @everyone role from reading messages. We don't want any channels being visible before a user is sorted: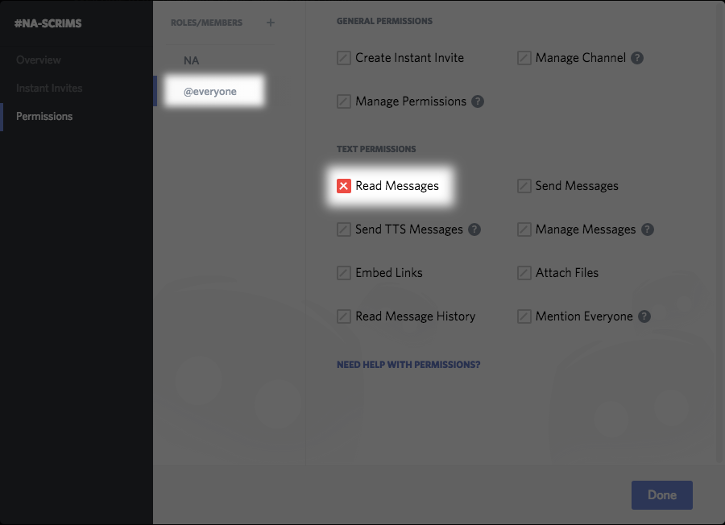 This first step will prevent anyone not already sorted from seeing the channel in the list.
The next step involves allowing only members from the appropriate region allowed inside the text chat. Shown here: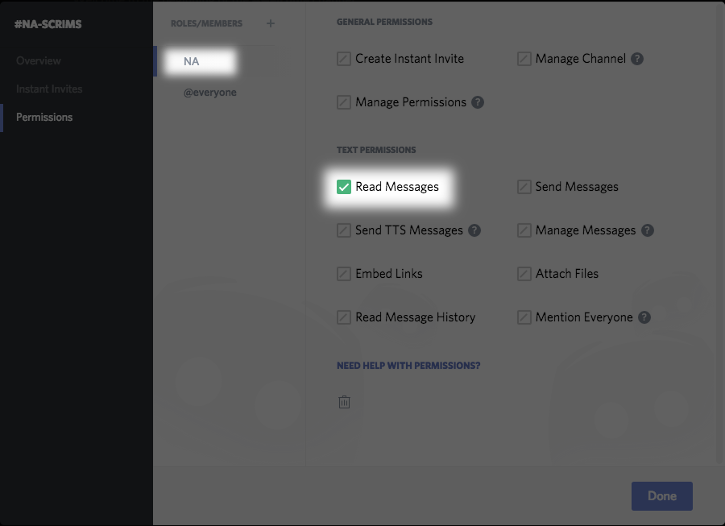 Note: Since we've already customized what we want players to be able to do or not do in terms of permissions, the "read messages" permission for the channel specifically is all we need to address. If you want to add server-specific exceptions, like players editing messages, this screen is the place to do that.
We all set for our text channels now. Just remember to rinse and repeat for the rest of the channels, and to swap the NA for EU role when setting up the EU channels. Simple!
Using the regional tags and channel specific permissions, we have a lot of flexibility in terms of special or versatile channel functions. Some cool extra ideas that you can add:
Manager Discussion Room: By creating a text channel and denying access to the @everyone role, we have a template for creating role-specific rooms. If you want to create a manager-only room where they can discuss scrims and setup and other manger-y things, you can add the "read messages" permissions to the Manager role only.
A little bit of order: If you any room is particularly rowdy or perhaps a little too overzealous with showing their support to the almighty Frankerz face, you can add extra permissions to the Moderator role and allow them to temporarily kick members, edit messages, or even lay down the ban hammer. Remember, with great power comes great responsibility!
The Powers that Be: Obviously, the Admins also need their own cool hangout spot. You've probably got the idea by now: Start by creating a text channel with the @everyone permission of "read messages" disabled. Then, add all the permissions to the Admin role specifically. There they'll be able to discuss the finer points of balance between chaos and order and keeping the server on whichever side of it they like.
On to the Voice channels
Voice channels are going to be pretty similar to how we set up Text channels, but instead of sorting them by region, let's use the permissions set to categorize them into "sub channels". Our Sub channels will have only two trees, but once you get the idea down you can split them up into however many nests suit your fancy.
Establishing Main Channels
First we'll create the category channels, that signify what kind of purpose their sub channels will be used for. Let add a few here: Scrims, Spectate, Tournament Match, a Lobby, and Competitive Discussion. We'll throw in 5 scrim channels for participating teams, 2 spectate channels, 2 tournament match channels (that will require a special "key" role assigned by the mods), a lobby channel for good measure, and 3 competitive discussions channels. We can also take advantage of Discord's AFK detection by making an AFK channel at the very end as well. It'll end up looking something like this: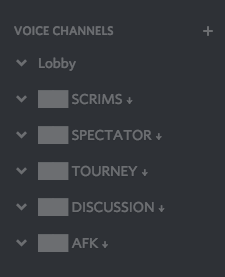 You can use a couple of special characters to notate parent channels that will separate each category. I used these:
██ SCRIMS ↓
Creating nested channels
We'll take this in two bounds. Since the blocked topic channels are simply there as markers, we don't want anyone using them. (It'll keep things a little tidier.) To do this, just go into the channel specific permissions and disable the "connect" permission for the @everyone role.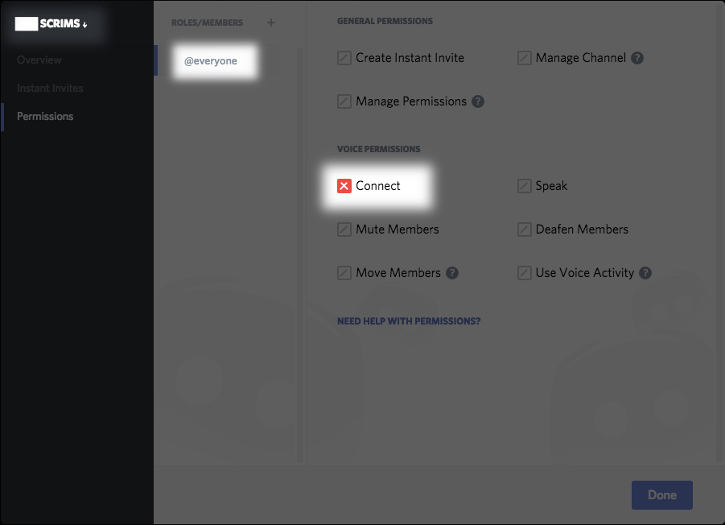 This'll solidify each marker as only that. No stray wanderers!
Now, we can just create as many channels within each marker as we need. The order you do this won't affect things too much, since voice channels can be dragged around pretty easily.
Here's the voice set up with 5 scrim channels added: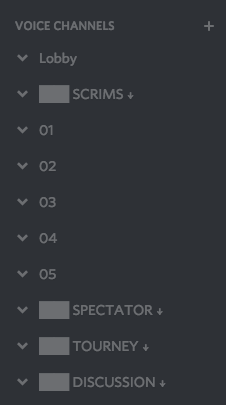 Notice how the little block icons give the parent/nested channels a little cascaded effect. That should make it easier to see what's going on. Rinse & repeat for the rest of the channels, and then let's make two "key" roles that'll function like passwords for the Tourney channels. These will be for the teams competing, so they can focus on the game without worrying about any intruders.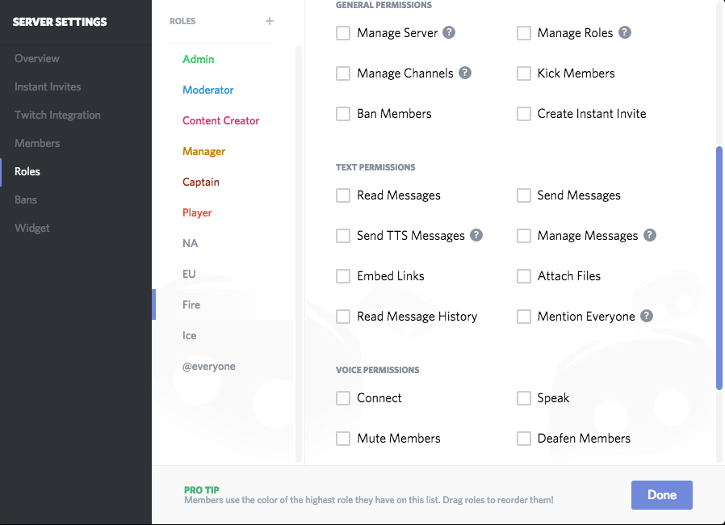 No special permissions here, only channel-specific.
Now Within the Channel permissions specifically: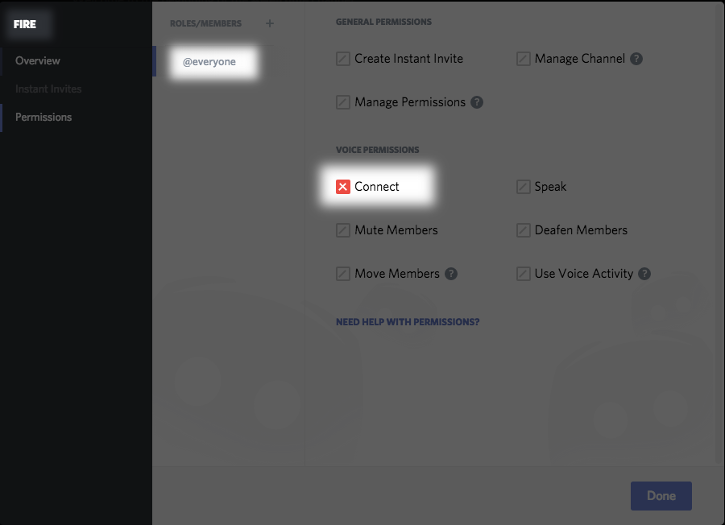 Disable anyone normally from being able to connect, and...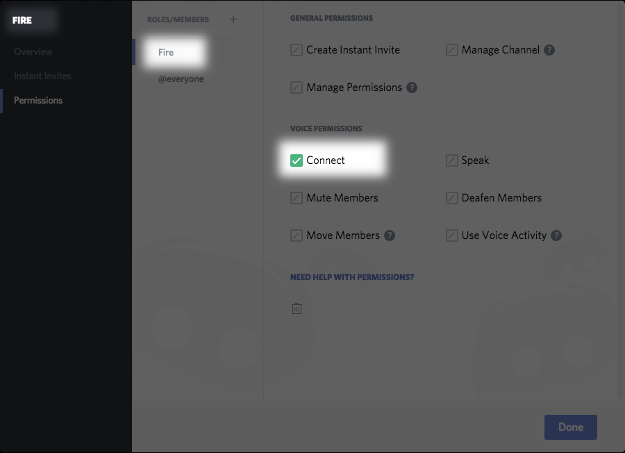 ... Allow anyone given the Fire role entrance to the room!
Awesome! The final list should look something like this:

Remember to set the AFK channel to our specially designated channel. That's done by going into Server Settings > Overview, and selecting the AFK channel from the drop down menu.
Conclusion
That's all there is to it! Throughout the course of this article, we built a super involved server with tons of cool permissions features to not only encourage multiple aspects of discussion and forum-going, but also keep things tidy and neat, provide some security and moderation function, and even separate discussion by region where necessary. While I've gone on and laid down the bare-bones of these channel functions, you can go as far in as you want, and do crazy things like create more hierarchical roles, extra rooms, temporary visitor passes, announcement channels, and those are just a few suggestions.