So you own a dope server with dope members. What kind of security would ya like? We provide so many options! Here we'll go over what Verification Levels are, and what they mean for protecting your server a little bit more.
How do I find it?
Simple enough. Open up your server settings: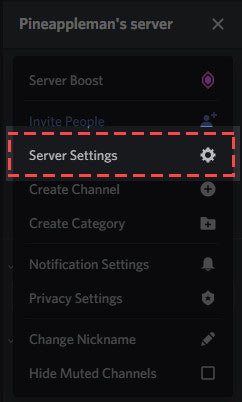 So once you're there, visit the 'Moderation' tab. You'll notice as you scroll down, there'll be an additional "Verification levels" selection.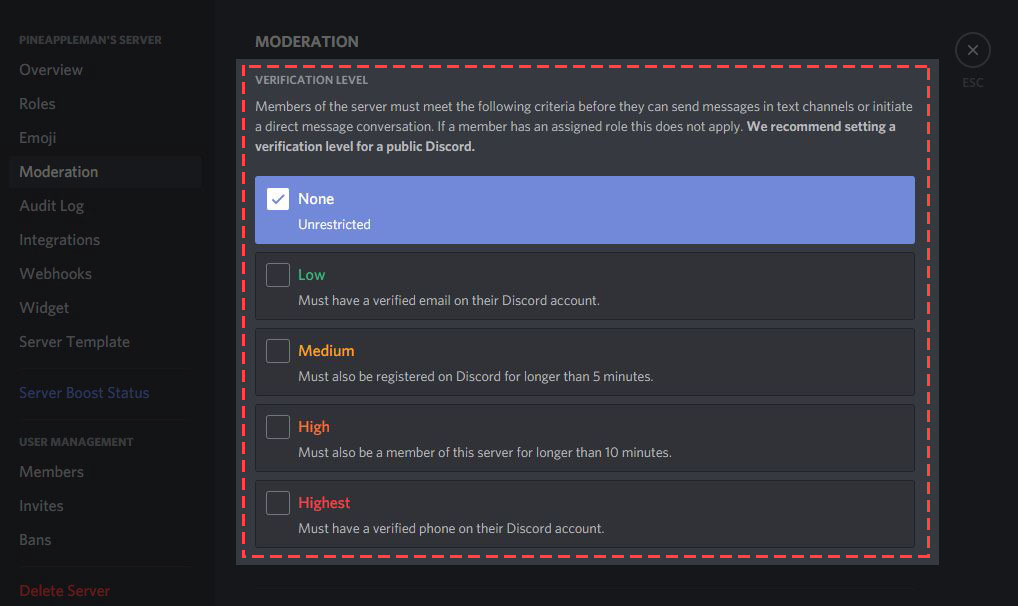 What does it all mean?
Verification refers to a basic level of security a user must meet before they're allowed to send text messages in a channel. This is particularly useful in preventing bots and spam accounts from mass-joining your server, especially if you've made it public or have a never-expiring Instant Invite hanging around the web somewhere. We can see there's five different levels of verification to check out here, so let's break them down piece by piece:
None:

Selecting none will forego any verification security, and anyone who enters your server will be able to chat immediately upon entering. Better suited for private servers amongst your buddies.
Low:

If you've set your server verification settings to Low, the user must have a verified email on their Discord account before they're approved to participate in the server. Steps for verifying your email can be found in this article.
Medium:

Medium server verification settings mean that in addition to needing your Discord account to have a verified email, it must be verified for longer than five minutes before you can start declaring your glory in the chat.
High:

High is next step security setting you can lockdown your server with. Including requiring a verified email AND being registered on Discord for more than 5 minutes, you must also be present in the server for longer than 10 minutes. We know it's such a long time, but you can wait it out. We believe in you.
Highest:

Want to take this verification level thing TO THE EXTREME? We won't blame you! Add an extra extra extra layer by setting the Highest status! In addition to everything above (verified email, registered user for 5+ minutes, and server member for 10+ minutes) they will also need to have a verified phone number attached to their Discord account.