Note: This feature is currently only available on Desktop and Browser clients!

Ever wish you had an easier way to quickly check up on conversations across all your channels? Us too. That's why we've added Inbox - a message center where you can view all of your unread messages and mentions!


You've Got Mail 📧
Note: Our previous @ mentions tab has been moved into Inbox.
What does this article cover?
ACCESSING MENTIONS
The previous @mentions tab has been added into Inbox! Clicking the Inbox icon and opening Mentions will show you all messages where you've been mentioned via one of the following:
@username
@role
@everyone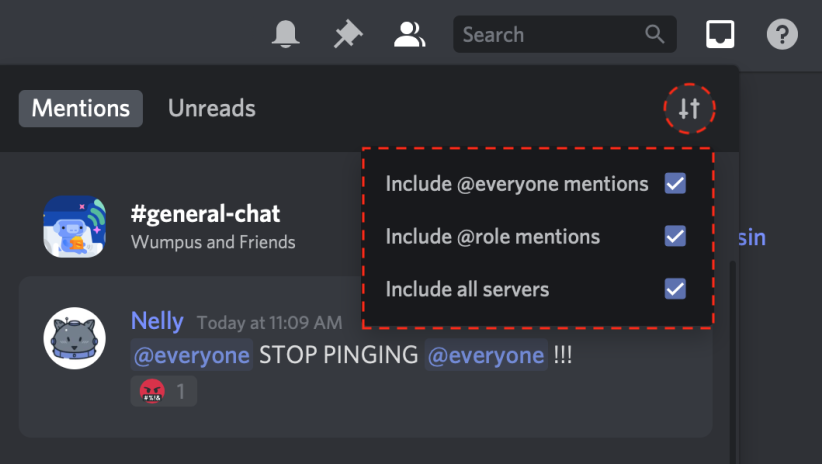 Filtering Mentions
You can click on the filter button in the upper right corner of the Mentions tab to filter mention messages a few different ways:
Include @everyone mentions
Include @role mentions
Include all servers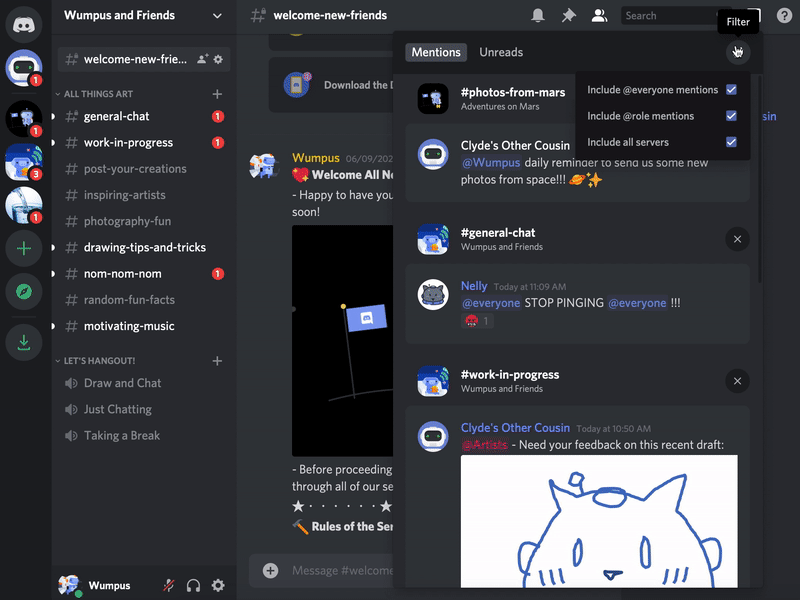 However, while you're viewing a DM though, the "Include all servers" option won't be displayed, and you'll only see the @everyone mentions and @role mentions options! So you'll need to make sure to be viewing a server to see all these Filter options!
Removing Mentions
And if you need to close out individual messages in the Mentions menu, click on the "X" icon located next to each message.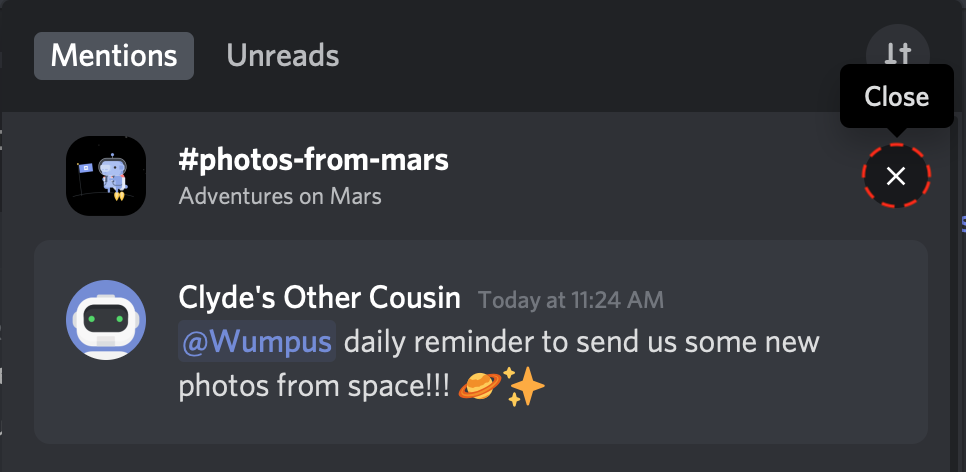 Note: Mention messages will automatically clear after 7 days.
ACCESSING UNREADS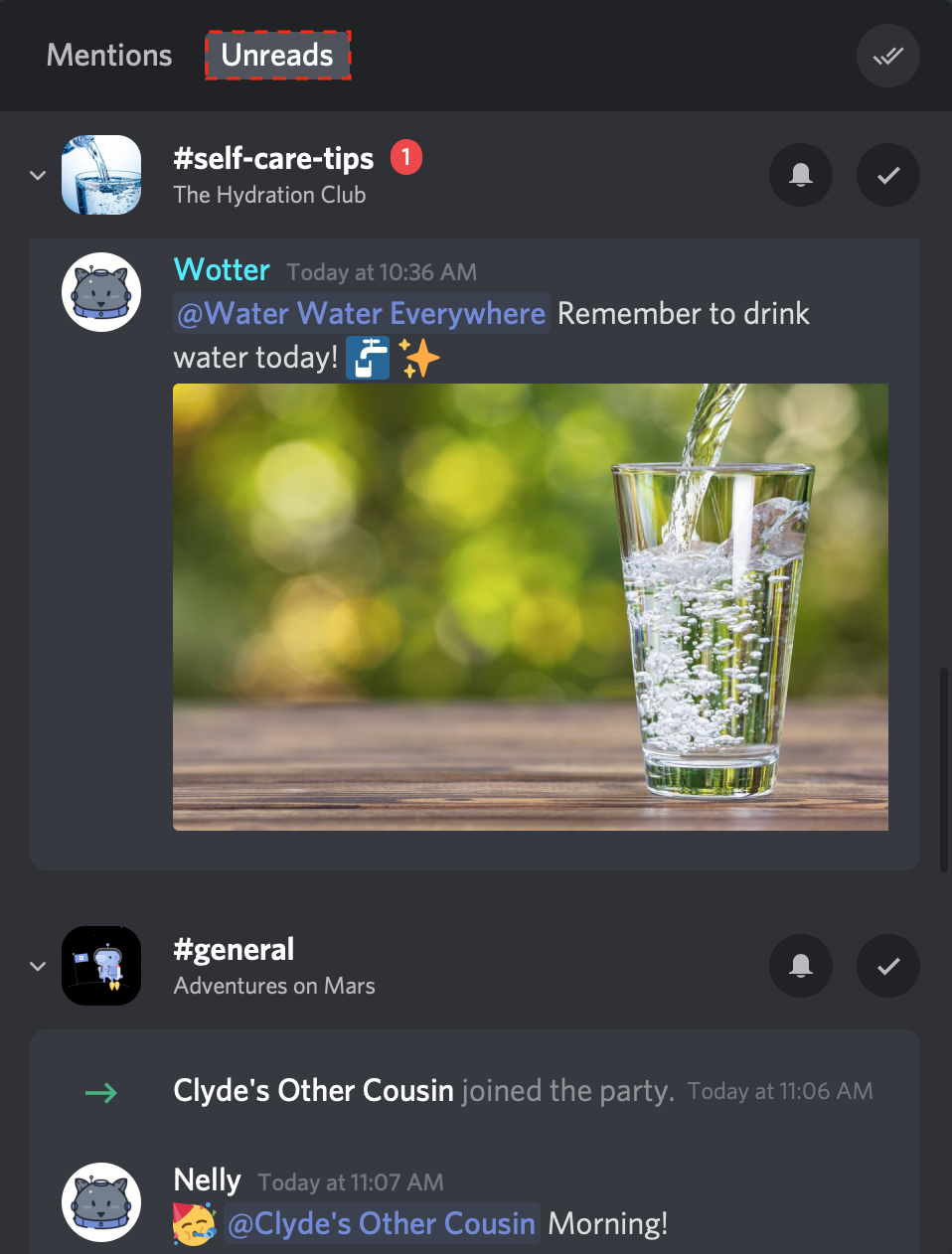 The Unreads tab shows any messages from unmuted channels that you have not marked as read. Any messages from direct messages or group direct messages will have a red badge indicator showing you how many messages there are!
Any @here mentions will show under the Unreads tab, not the Mentions tab.
Marking Unread Messages as Read
As you comb through your messages, you can mark messages as read by clicking on the single check mark icon within the individual message!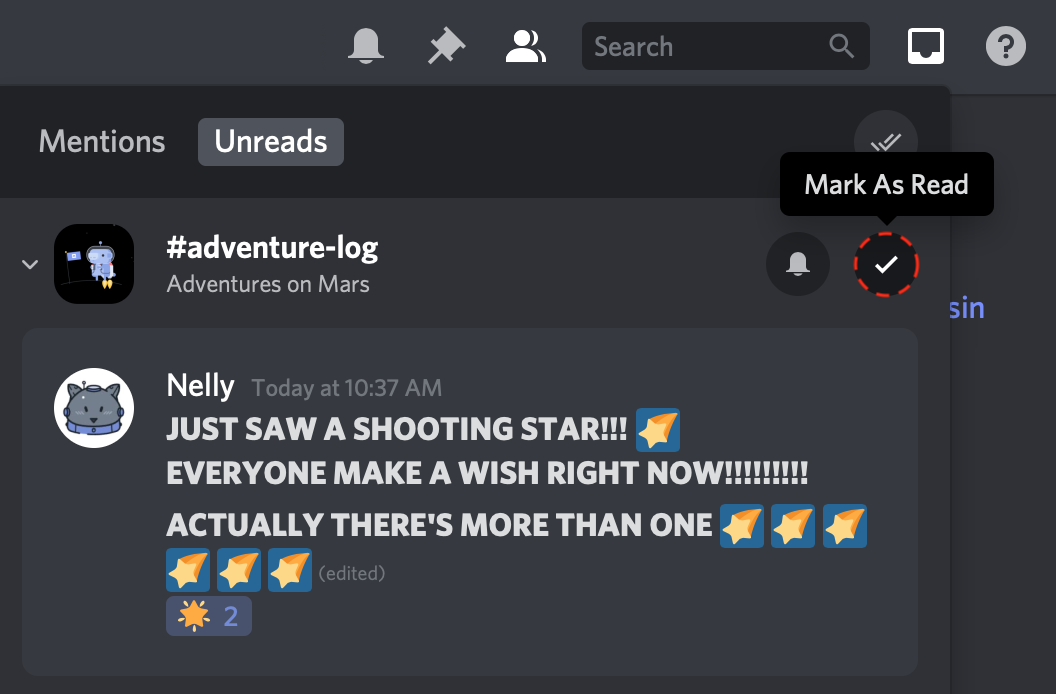 Marking All Messages As Read
If you want to start over fresh and clear all unreads at once, click on the Mark Inbox As Read button in the top right corner. All unread messages will be marked as read and make way for new notifications!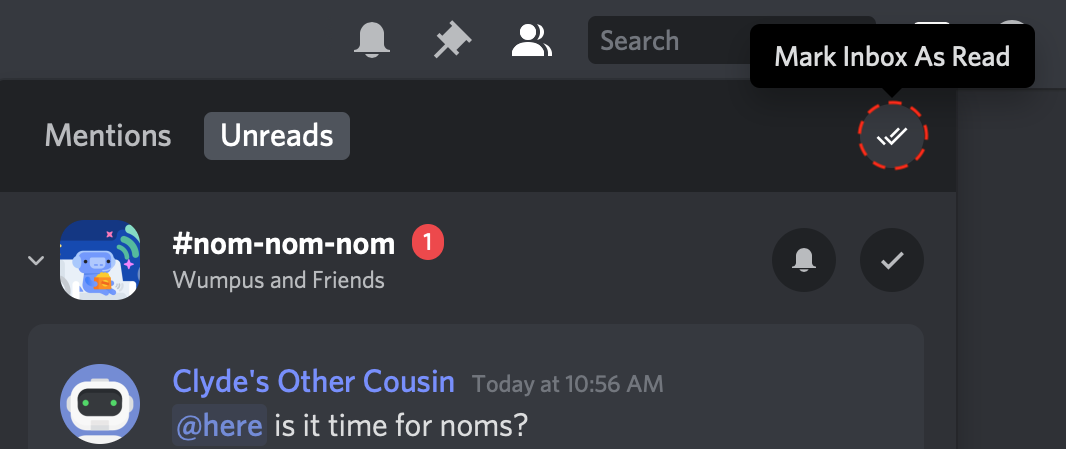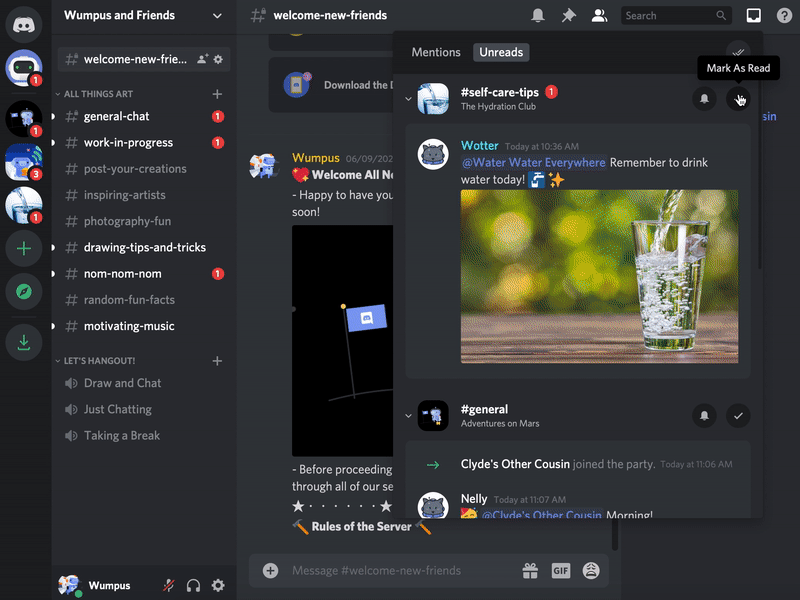 Muting Inbox Notifications
Lastly, as you're combing through your Inbox, if there are channels you don't want notifications from, click on the bell icon and set your mute preference on a channel level or server level!
Note: If you've selected to mute a channel or server via Inbox, you'll need to go to the server to unmute when you want those notifications to appear again.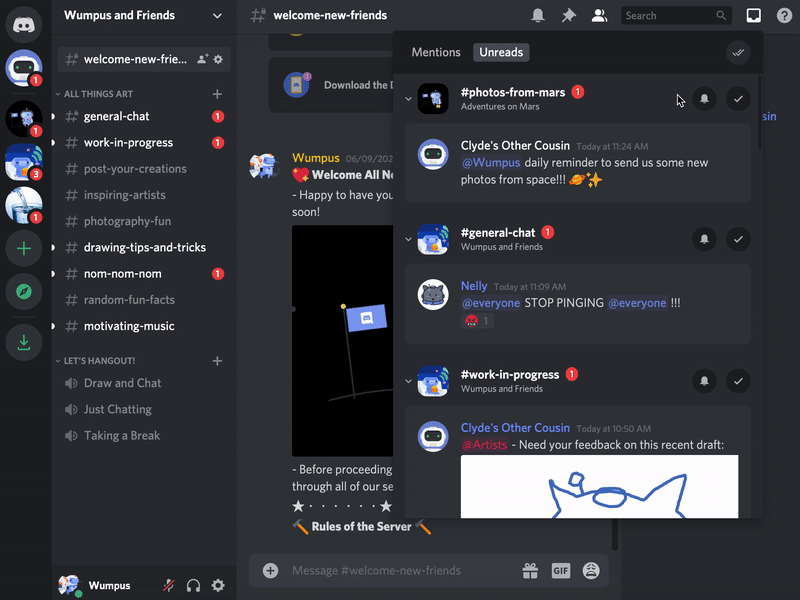 INTERACTING WITH MESSAGES
In order to reply to specific messages, click on the Jump button that appears on when hovering your mouse over a specific message!
Clicking this button will teleport you directly to the channel that the message you want to reply to is found in.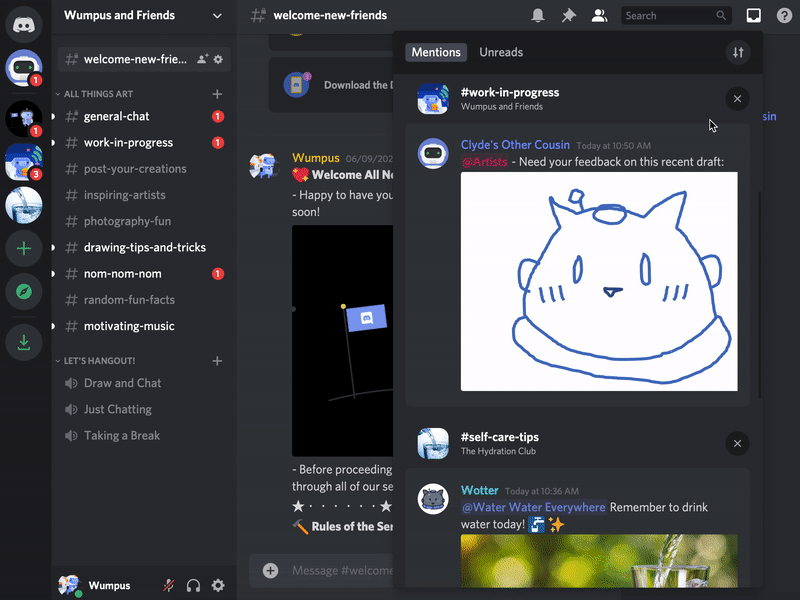 In the Unreads tab, you can also add new reactions, add reactions to messages that already have existing reactions added to them, and even play media within the inbox itself!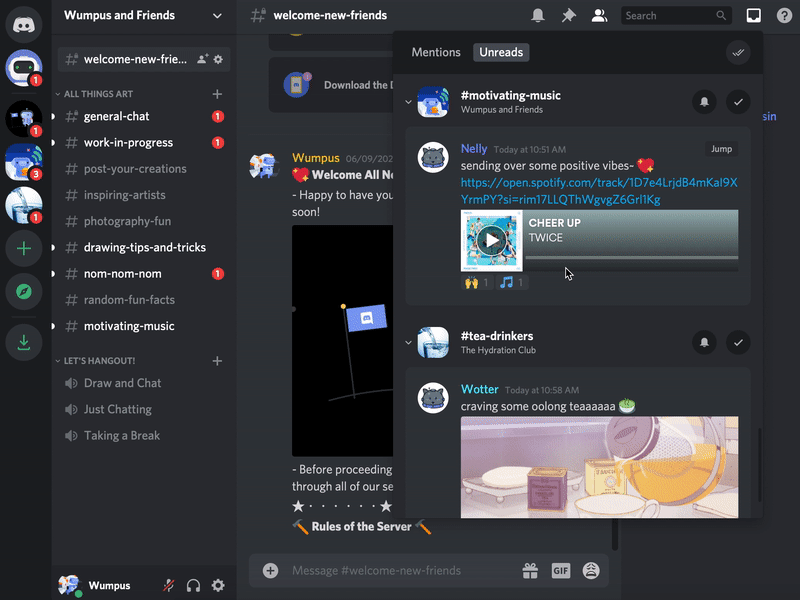 SHORTCUTS
If you're looking to further level up your inbox skills, you can also use these extra nifty shortcuts!