What this article covers:
What are Game Invites?
If the game supports it, you'll be able to spectate or even ask your friend if you can join their party. You can do all this through Discord itself via a user's profile (mini or main profile) or through a Game Invite within a text channel. Let's go over how all of this works.
How to invite another user to a game
Whether you're putting together a party from a server of friends, or creating a group from a larger server, we've worked hard to make inviting others to join you as easy as possible: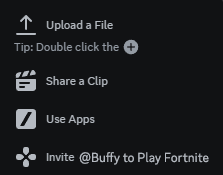 After you launch your game, keep your eye on the + button in your chat bar (bottom left side of the app). Once you see the Play button, tap on it and drop the game invite directly into chat. Friends can tap on the invite and join your game.
How to join a game
You'll need to have run the game at least once for Discord to detect it.
There are a few ways to join a game, let's go over each one.
Option 1
Your friend can send you a game invite in a text channel or through a direct message/group direct message.
To accept the invite, just tap on Join.

Option 2
If your friend has their Activity Status enabled, access their mini profile or profile (by tapping on their username in your friend's list or server member's list) and you'll see a Join option if you're able to join them.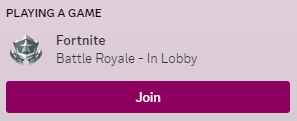 Ask to Join
If your friend is currently battling their way through a game, instead of being able to join directly, you can instead tap on Ask to Join.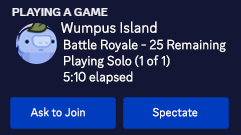 Once your friend has completed their battle, they can then accept your invite and you can join them!
If someone requests to join your game, you'll get a message in-game (displayed through the Discord overlay) and all you have to do is follow the on screen prompt to approve.

Spectating a friend in Game
To watch your friends in game, simply head over to their mini profile, and tap on the Spectate button. The game will launch and you'll start spectating if the game supports Spectate mode. You can only spectate someone if you're friend's with them and the game supports this.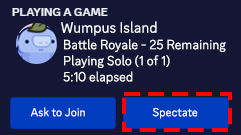 Troubleshooting Errors
Sometimes invites need some help to work perfectly! Here are some common errors that may come up.
Game Not Detected
Trying to join a friend and you're getting a "Game not detected" error? In order for Discord to recognize that a game includes these features, you'll need to have launched it once since they were incorporated into the game. Please try opening the game and trying to accept the invite again.

Unable to Send Invite
If you're trying to send someone a game invite through Discord, but you're not seeing the option, here's how to resolve this.
Option 1
Make sure that you have it enabled so Discord can share your Game Status. Here's how to check this.
1. Tap on cogwheel [

] next to your Discord username to access your User Settings.
2. Then head to Activity Settings and tap on the Activity Privacy tab.
3. Make sure that Display current activity as a status message is enabled.
4. Also, make sure to check under the Registered Games tab to see if it's disabled or enabled for that specific game.
Option 2
Make sure that the game you're trying supports Discord game invites and that you're in the right state (able to invite someone into your party) in the game so people can join your party.
Note to Developers: The Rich Presence API is now live. If you're interested in incorporating these features into your game, head over to our
developer's page.