Sometimes an emoji is worth a thousand words. Instead of typing out your response to the age-old coffee vs. tea debate, you can react to the post with an emoji and let people know what's up.

What this article cover:
What are Reactions?
Reactions on Discord allow you express your reaction to a message with an emoji.
If you want to learn more about emojis on Discord, check out this
article
.
How to add Reactions
Just press the little Add Reaction plus smiley-face icon next to the edit message menu icon to pull up your emoji menu to deal your best reaction:

Wanna add more than one reaction to a message? The same Add Reaction plus smiley-face icon will show up next to the last emoji reaction, where you can add all the different types of fire you can think of: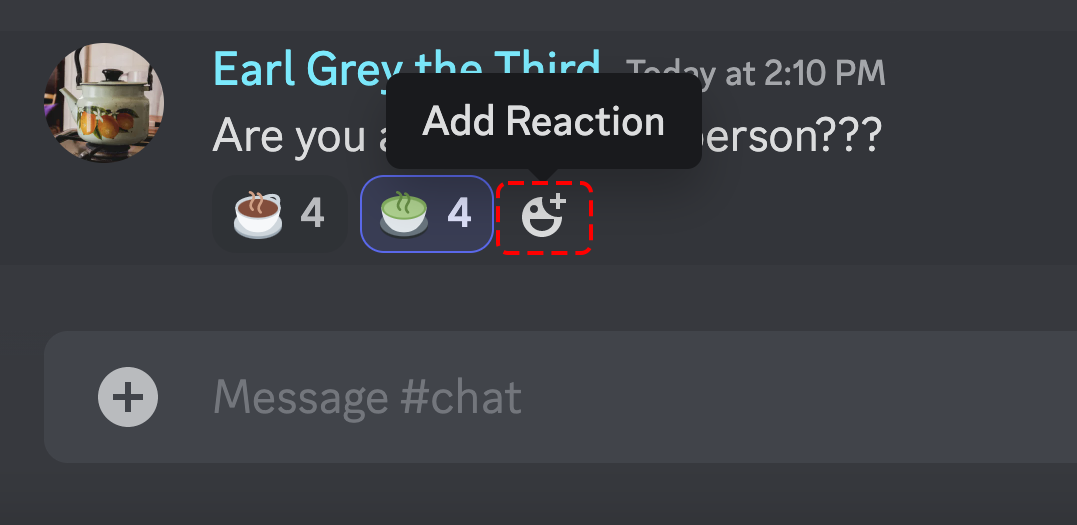 There are a few more tips and tricks you can use to become an emoji-reacting-expert. Check them out:
After bringing up the Add Reaction page, hold shift and left-click on multiple emojis to react with all those selected emojis!
Right-click the message you want to react to or hover over the message and press on the ellipses to open up the menu, and Quick React with one of your more commonly used emojis at the top, or select a specific emoji in the Add Reaction tab: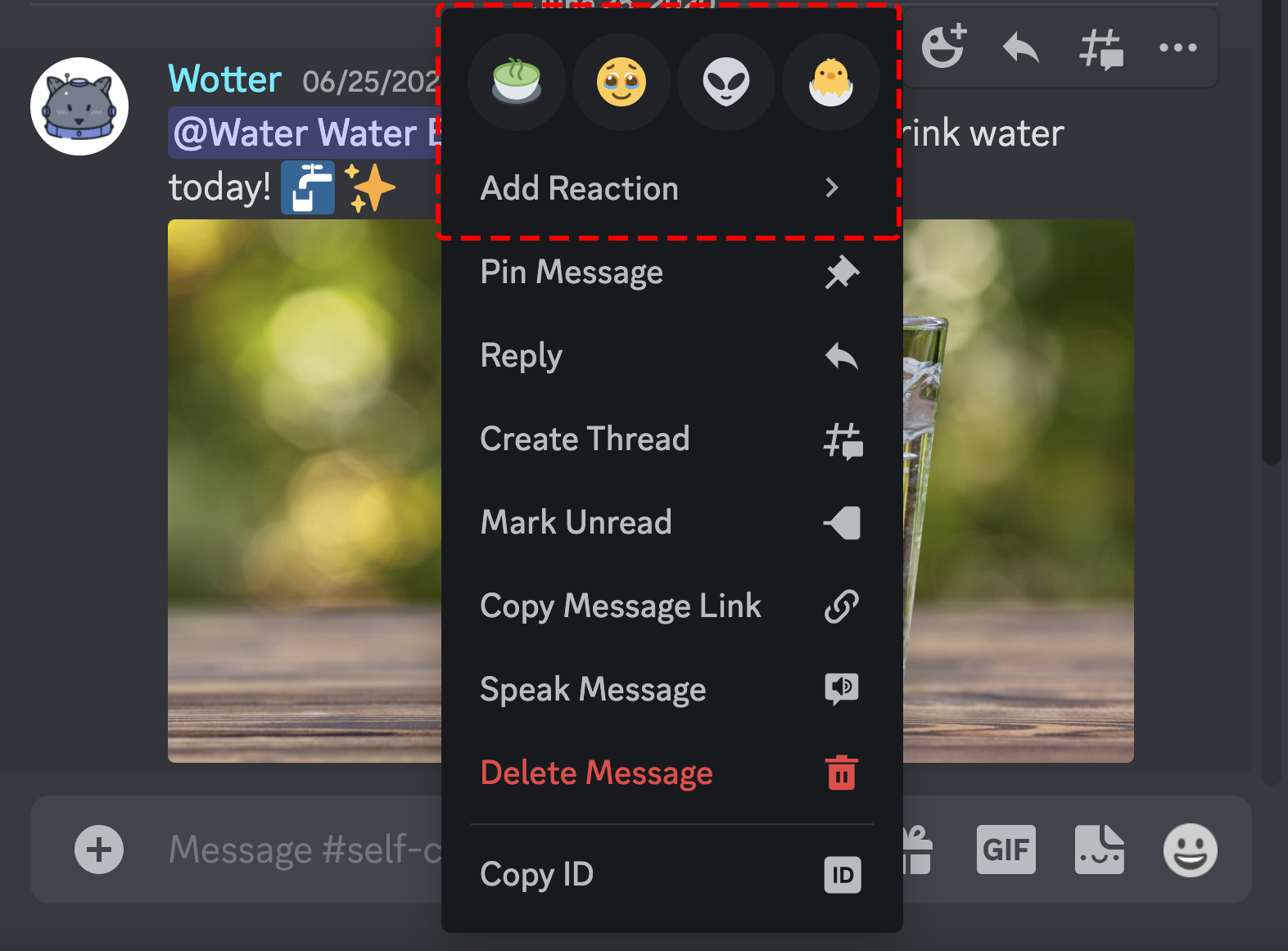 What are Super Reactions?
Unlimited Super Reactions are available on both desktop and mobile. Super Reactions are a
Nitro
locked feature.
Want to take your reactions to the next level? Would you like to react to a message with an emoji and apply it with emphasis? You can with Super Reactions!
A Super Reaction adds an animation when you react to a message with your chosen emoji. Super Reactions are great for when you want to add a little more hype, emotion, and intensity to your reaction!
How to add Super Reactions
To use a Super Reaction, find one of the entry points noted above to access the emoji picker. From there, click on the Super Reaction icon on the top right corner of the emoji picker. Once you see a blurple glow border, all emojis selected will be shared as Super Reactions.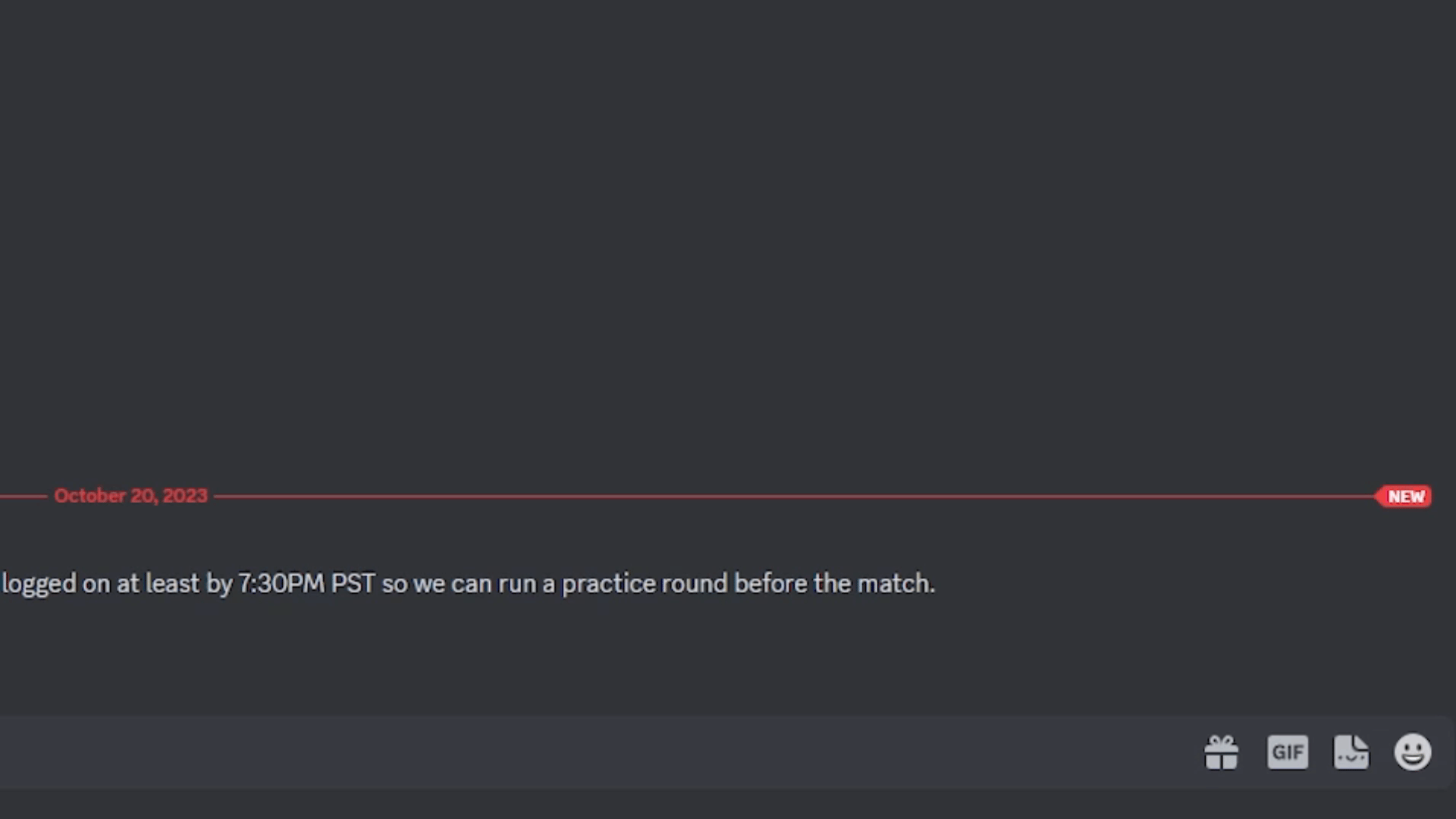 How many reactions does my Nitro/Nitro Basic/Nitro Classic subscription allow?
All Nitro, Nitro Basic, and Nitro Classic users have an unlimited amount of Super Reactions.
Everyone can see Super Reactions! To use Super Reactions, you must be a Nitro, Nitro Basic, or Nitro Classic subscriber.
How do I disable Super Reaction animations?
If you would like to turn off the Super Reaction animations, you'll need to disable the Play Animated Emoji setting. Here's where to find that setting:
1. Go to your account's User Settings.
2. Go to the Accessibility page.
3. Navigate down the page to the Play animated emoji option and use the toggle to enable and disable the Super Reactions animations.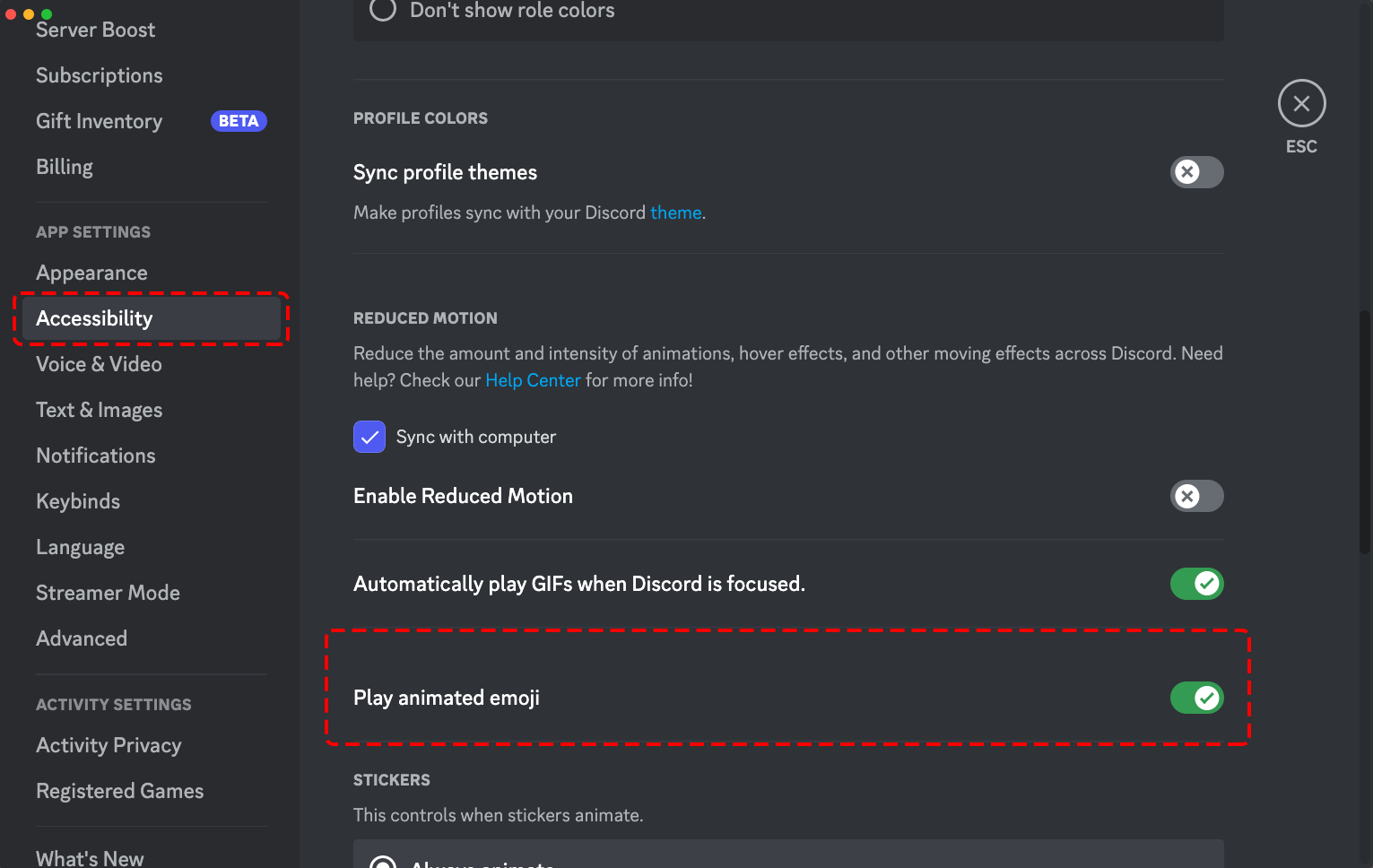 Removing Super Reactions as Server Admins and Moderators
If you are an admin or moderator for a server and you would like to remove Super Reactions from a message, you can do so on the desktop or browser app.
In order to remove Reactions and Super Reactions as a server admin or moderator, you must have the
Manage Messages
permission.
At this time, you cannot remove Super Reactions as an admin/mod on the mobile app.
1. Go to the message with the Super Reaction you would like to remove.
2. You can right-click on the message or press the ellipses icon from the message toolbar to find the View Reactions option.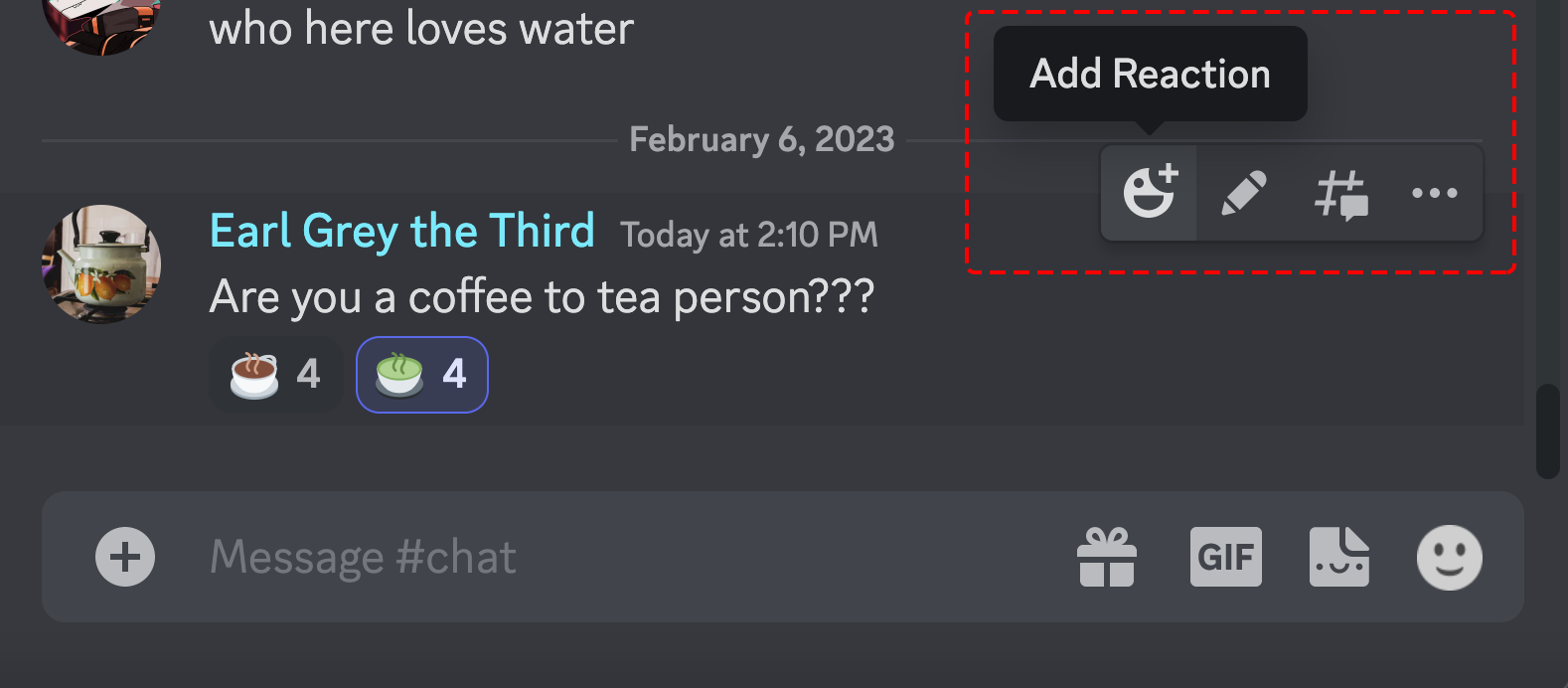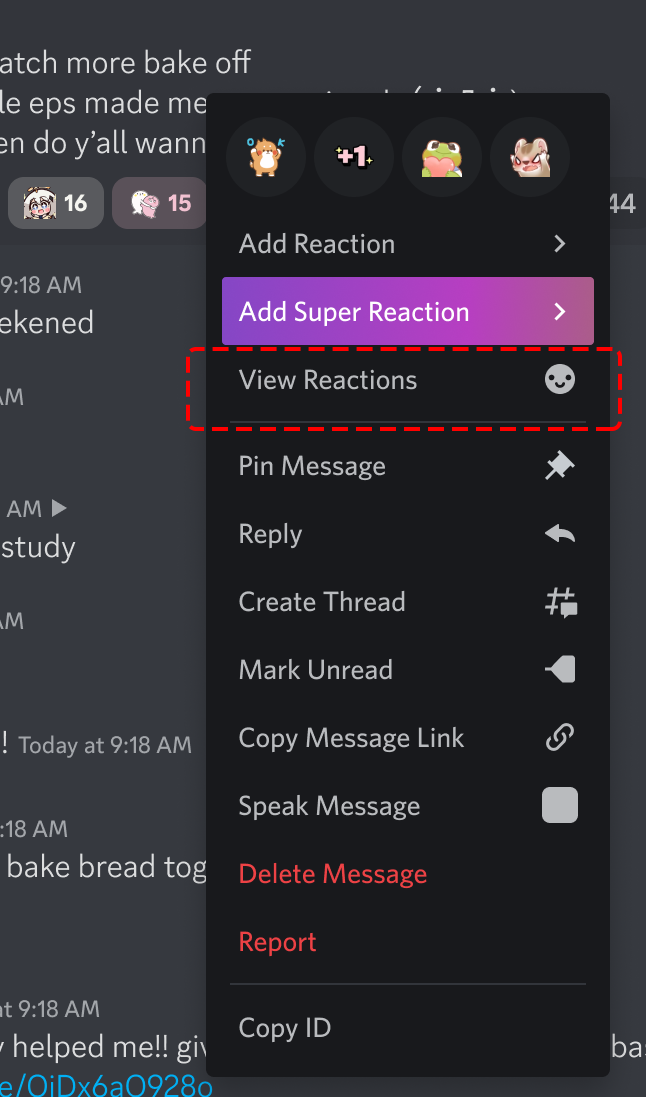 3. In the View Reactions window, navigate to the Super Reaction you would like to remove and hover or focus on a server members' name under the Super Reaction. This will reveal an X besides their name, which you can press to remove the Super Reaction.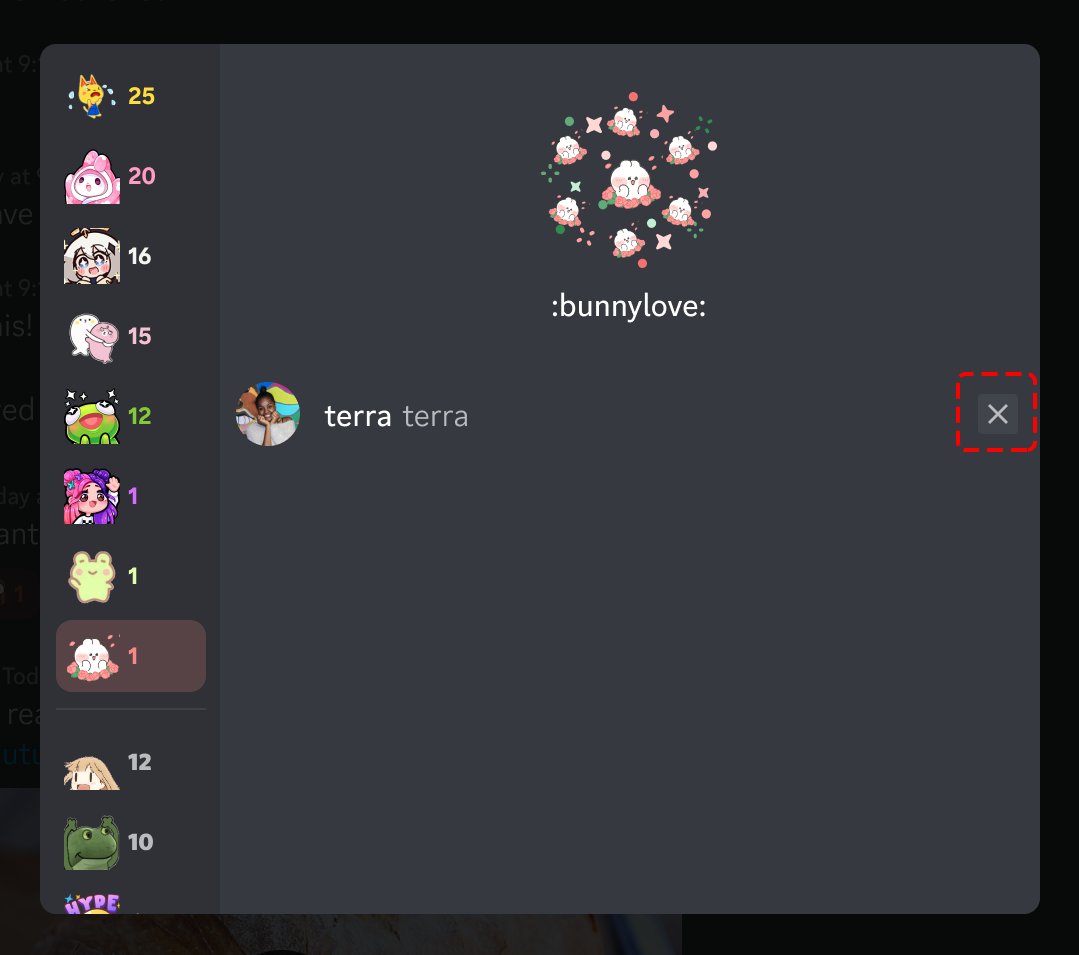 Can I see who reacted with what emojis to a message?
You can right-click on a message or press on the ellipses icon of a message to open the menu and see the View Reactions tab. This nifty little menu will let you view who reacted and super reacted with what emoji: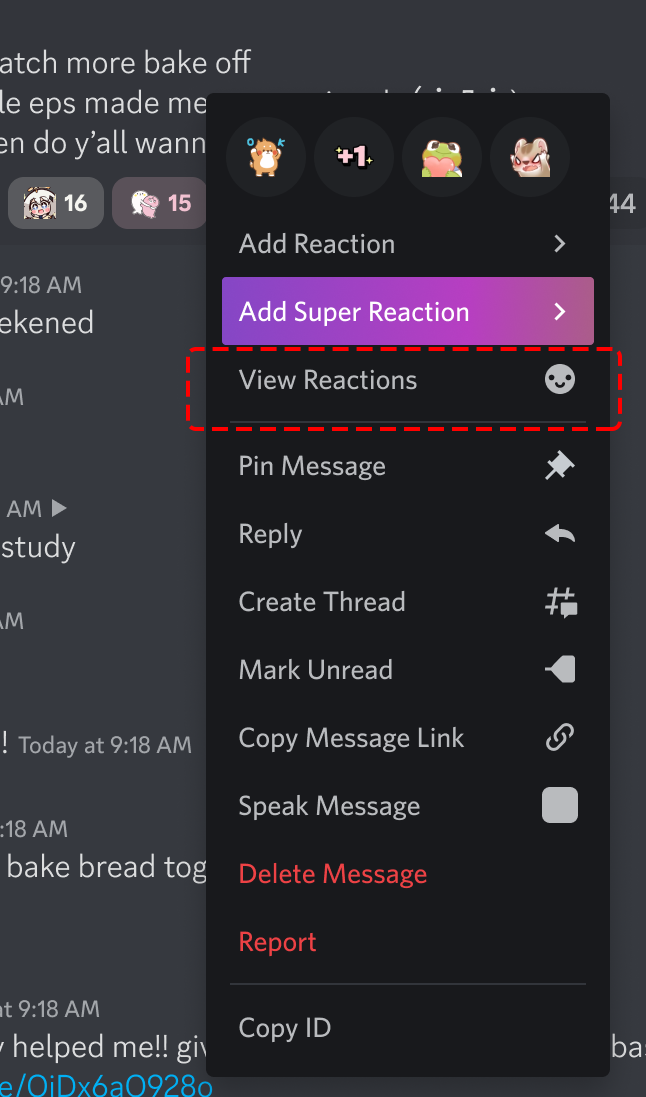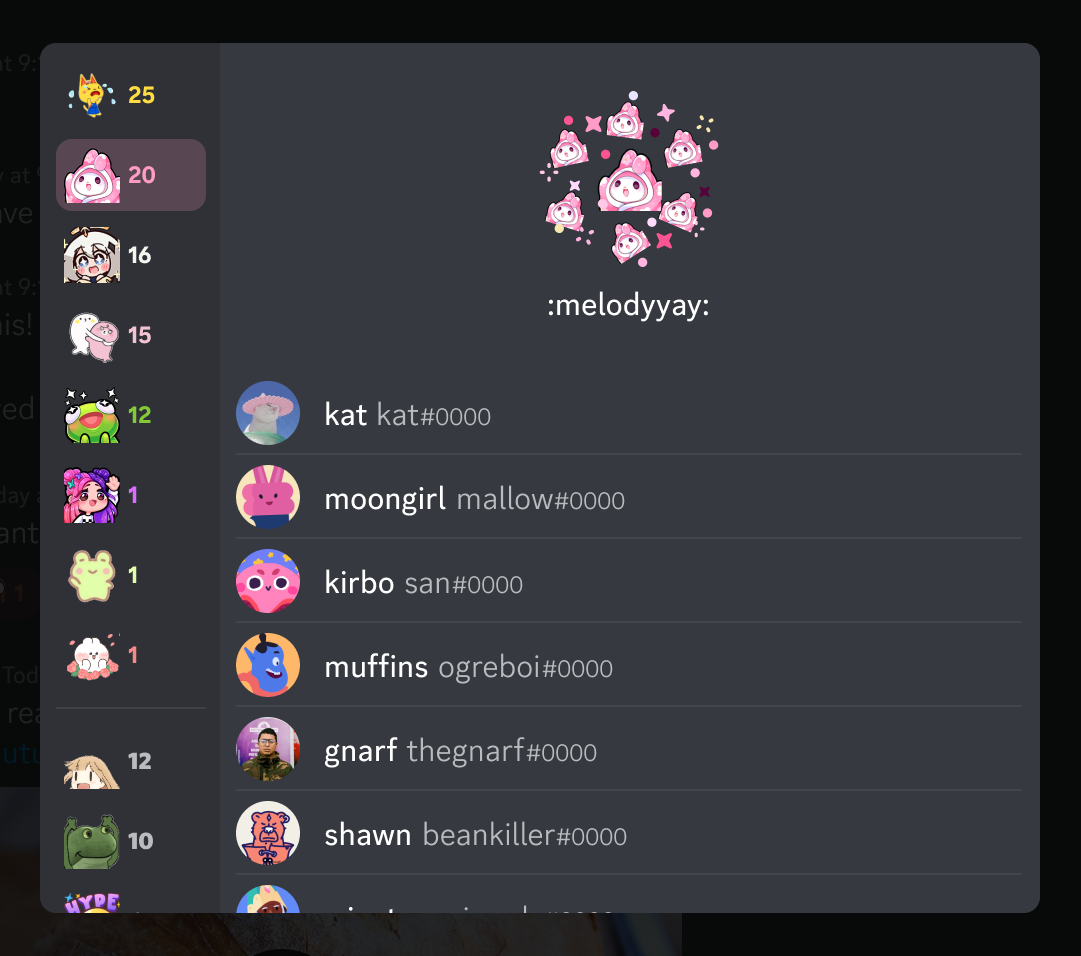 Can I remove my Reaction/Super Reactions?
If you want to take a Reaction back, just select the box with the emoji of the reaction you sent, and it'll disappear.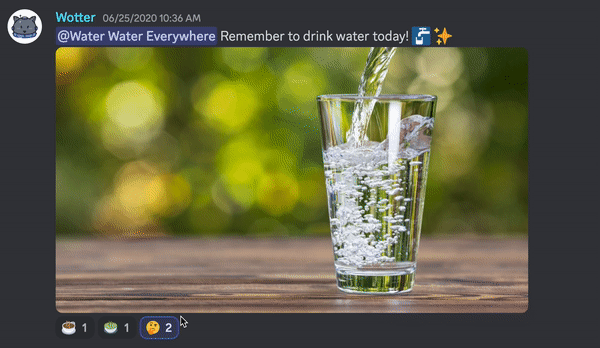 You can also open the View Reactions tab from the menu when you right-click on a message or the ellipses icon and select the X next to your username under the emoji of the Reaction.
In that same View Reactions window, you can remove your Super Reaction by selecting the X next to your username under the emoji with the Super Reaction.