With our brand spankin' new Spotify connection, your friends can see what you're listening to, playback Spotify tracks, and even listen along!
Mini-Profile and Profile
If you connect your Spotify account to Discord, info will be visible on both the mini profile and the full profile:
There are a few key points to get hyped on with Spotify in Discord:
You'll be able to share what songs you're listening to with your friends.
Your friends will have the ability to play the song you're listening to.
Your friends will even be able to listen along with you, letting you be their DJ!*
*Note: This feature requires Spotify Premium for the listeners
Connecting your Spotify account
Connecting Spotify is super easy to set up, let's get started!
First we'll connect your Spotify account by going to User Settings -> Connections and clicking on the Spotify logo

You'll have to confirm that you want to connect your Spotify account to Discord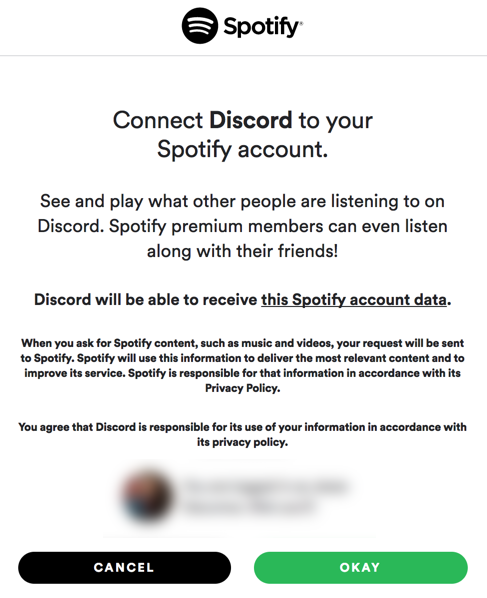 Once that is all done, you'll see a successful message, and you'll see Spotify on your list of connected accounts.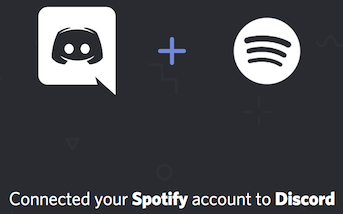 You can choose to toggle your Spotify name on your profile, and to toggle displaying Spotify as your status!
IMPORTANT NOTE: If you are transmitting with your mic in voice chat for 30 seconds while Spotify is playing, Spotify will stop playing! For more info check out this article!
Inviting your friends to listen
You can also invite your friends to listen in with you, while you're listening to music!
Important Note: To invite friends to listen, they'll need to have Spotify Premium or they'll receive an error!
While Spotify is playing, click the + in your text box to invite your friend(s) to listen with you: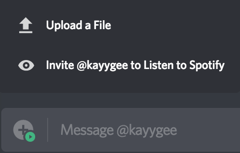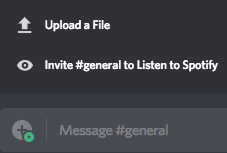 You'll get a Message Preview of your invite, and you'll be able to add a comment if you like!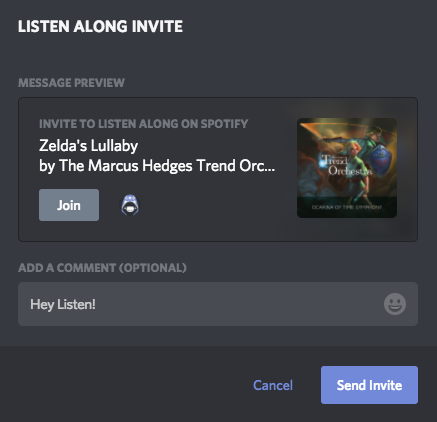 After sending the invite, your friends will be able to click Join and listen to your sweet tunes!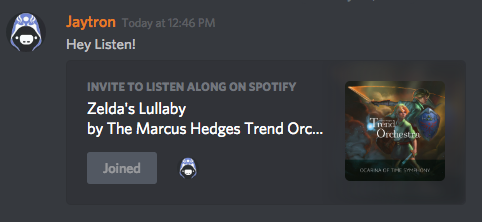 Protip: This link is dynamic and will change when you change songs. The invite will show the session has ended if you stop your music and will update again when you resume playing!
You'll be able to see what friends are listening with you on the bottom left of your app:

That about sums it up for connecting your Spotify account! Enjoy sharing and listening to sweet tunes with your friends!