🚧 Help center under construction! 🚧
So... What is a Bug?
Bugs are unintended behavior of the Discord app that diminish a user's experience. Think of the app crashing unexpectedly, or the "Add Friends to DM" button not letting you add your friends into a Group DM when you haven't reached the limit!
When these issues pop up, we want to make sure that we can track these bugs down, flag the issues to our team, and have our team fix them as soon as possible in order to make the Discord experience buttery smooth!
Discord Testers is an official server that offers a community-oriented Bug Reporting and Testing Tool. Our users track down bugs with the Discord client on various platforms, and provide us with crucial information that our engineers use to fix them!
While we cannot help you immediately fix the issue, or provide support on how to avoid running into the issue altogether, we made this server so that our engineers can work faster and better on removing the bugs!
So, how can I help?
As a member of our bug hunting community, our main goal is to locate, reproduce, and report high-quality bugs! When you have grown in your expertise in Bug Hunting, you have the ability to "rank up", and help us test and sort all incoming bugs.
Interested in trying out features and looking for bugs before they are even out for the public? Our Bug Trackers and Terminators are invited to exclusive tests with unreleased features. For your efforts, you can earn a cool badge for your profile that is exclusive to this server.
How do I sign up?
You can join Discord Testers via this link here: https://discord.gg/discord-testers.
Bug Hunting Guidelines
We want Discord Testers to be a fun and safe environment where you can make friends while talk about bugs together!
These are the expectations of the behavior that we expect from every single Bug Hunter addition to the server rules:
Read each and every report fully before trying to reproduce it. (If it says "Only occurs on Android 4.1.2" and you try to reproduce it on Android 6, that's an invalid repro.)
Always have all of your device info (name, OS version, Discord version, etc) when you reproduce something.
It's fairly common that a single bug can happen in multiple locations. If it's the exact same bug, but happens in multiple locations, there should be one ticket, then you add in the other locations as a note with the !canrepro command.
Buying or selling of bugs is strictly prohibited.
You cannot use a selfbot.
Please do not send messages that could spam the chat. (This includes: escape links with < > if the embeds do not immediately add to the conversation or take up too much space. Don't post one word at a time. Don't use all capitals, etc.)
Please check https://bugs.discord.com/ before you submit the bug, to avoid duplicates.
Note: If you believe someone is violating our Community Guidelines or Terms of Service, directly contact our Trust and Safety team at https://dis.gd/request immediately.
Bug Hunter Tier Levels
As you contribute to the server, you will level up! Here are the different level up requirements and unlocks: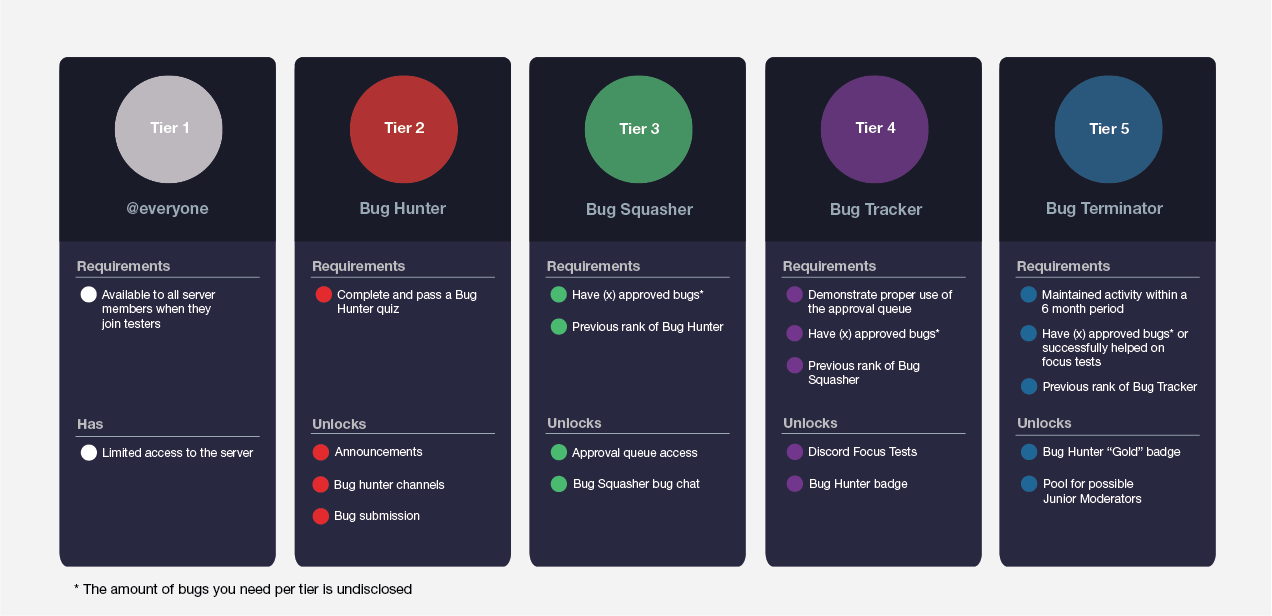 Unsupported Reports
This is a list of unsupported report topics, please check this list before you submit a bug.
Any client mod (BeautifulDiscord, betterDiscord, etc.)
Browsers: IE, Pre 17 Edge.
Any OS before Windows 7 (eg. web version on XP)
Mobile Web. The marketing websites are OK to report on for Mobile, but not the Discord application itself.
3.5" iPhones
Android versions below 5.0
Using multiple instances of Discord (eg. Discord Canary, Stable, and PTB running their clients all at once). However, Desktop + Mobile is okay.
Any bug that occurs only on virtual machines (if they can be reproduced on actual hardware, it's valid)
Amazon Tablets. Sorry Kindle users.
MacOS versions lower than 10.10
Any pre-release/beta/etc version of any OS. However, if the issue the user wants to report is a P1 or P0 (crashes or other severe bugs) it should be reported through the normal flow. If it's more minor than that, tell them to hang onto their bug and see if it still happens after the OS goes live. This same rule also applies to open-sourced software in Discord: Electron, Chromium, WebRTC, etc
On Linux, any "End of Life" OS (any OS that no longer receives updates) is unsupported and tickets reliant on those OS versions should be denied.
Any iOS version prior to 10.0
Any non google play versions of Android
Alpha/Nightly/etc versions of Browsers. If Discord was working then the Browser updated and Discord stops working, that's something to report to the browser developers, not us.
Jailbroken / Rooted devices
Payment related bugs should be reported to billing support
Security Bugs
API related bugs
Visual bugs with a low pixel offset ("Pixel-Bugs")
Spam-pressing buttons to reproduce
Bugs that only appear for about a second
Reports that involve a high amount of steps to reproduce (Think if the Konami-Code resulted in a bug)
Behavior that only happens by waiting for several minutes/hours.
Feature Requests