There are a number of ways to customize your profile to fit your needs. From a new avatar to a new banner, and everything in between.
What this article covers:
How to Edit Profiles Under User Settings
Looking to personalize your account identity in each of your servers? You must be a
Nitro
subscriber to unlock
Server Profiles
.
In order to change anything in your User Profile, you first need to access User Settings.
Desktop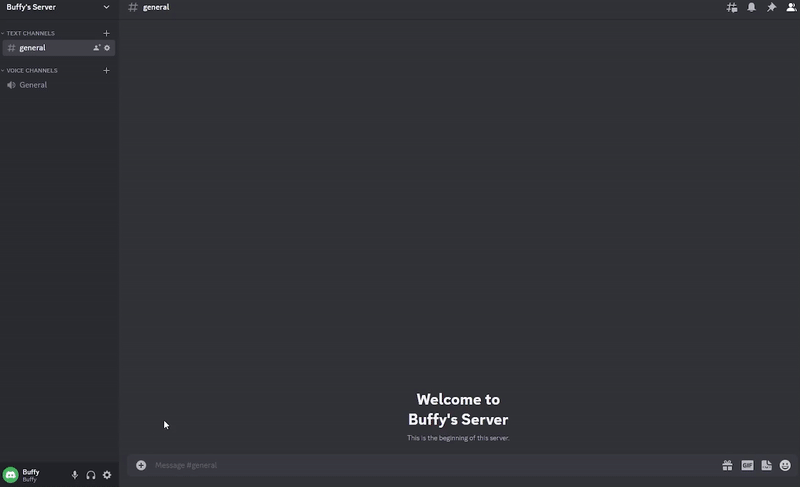 1. Tap on the Cog Wheel located at the bottom-left of the app to open User Settings.

2. Next tap on the Profiles tab to access and update anything within your Profile.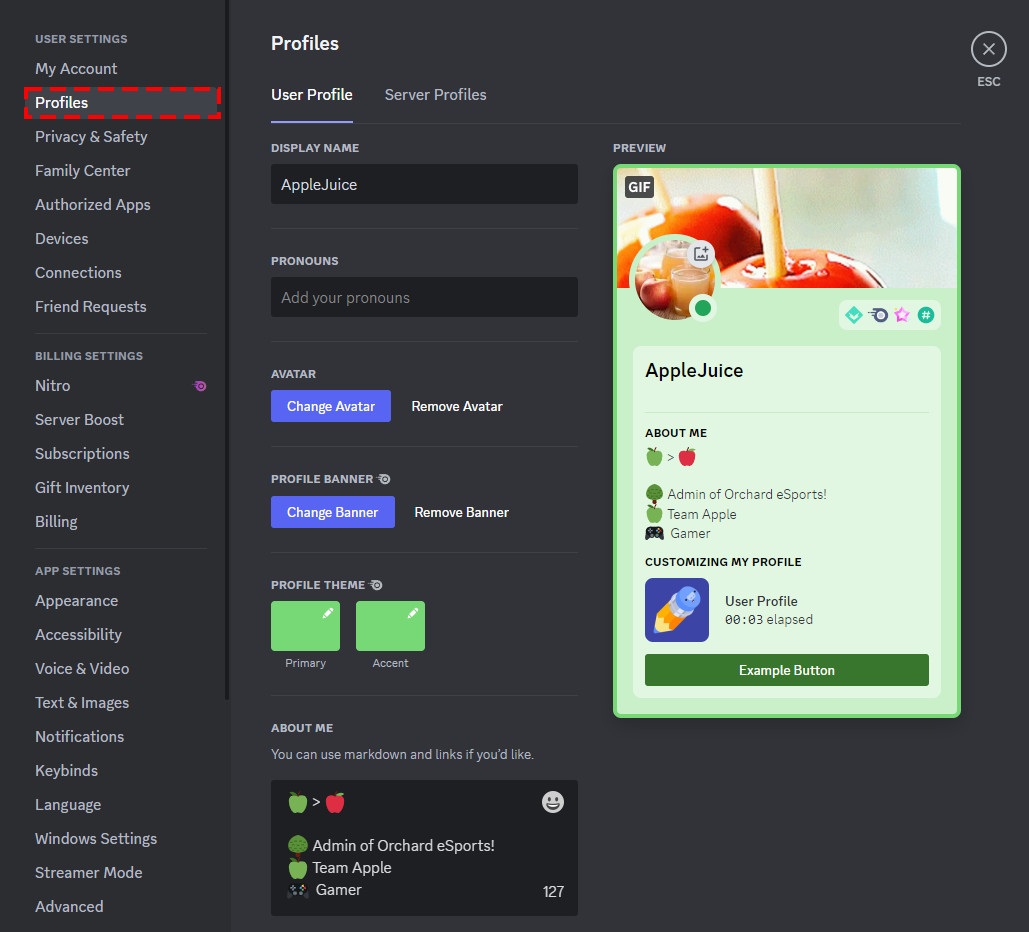 Mobile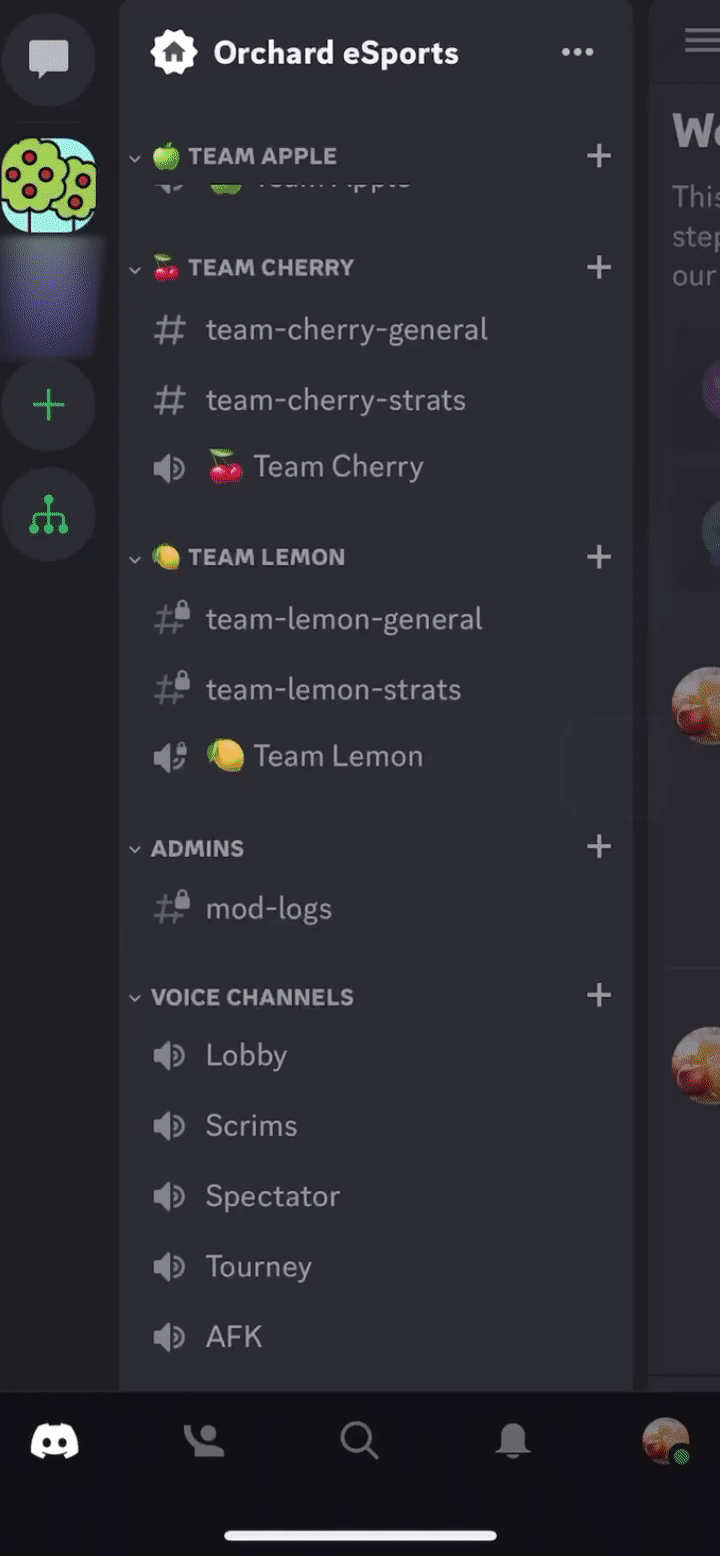 1. Tap on your Avatar in the bottom-right corner of your mobile app.

2. Next tap on Profiles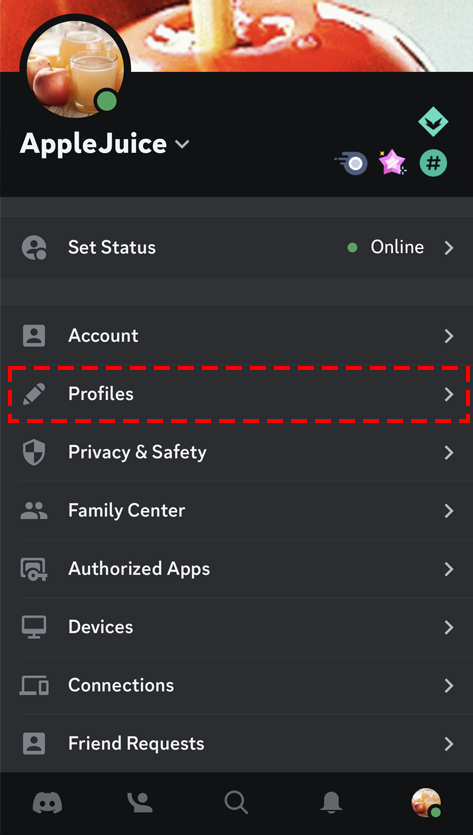 3. And now you can customize your display name, avatar, and more.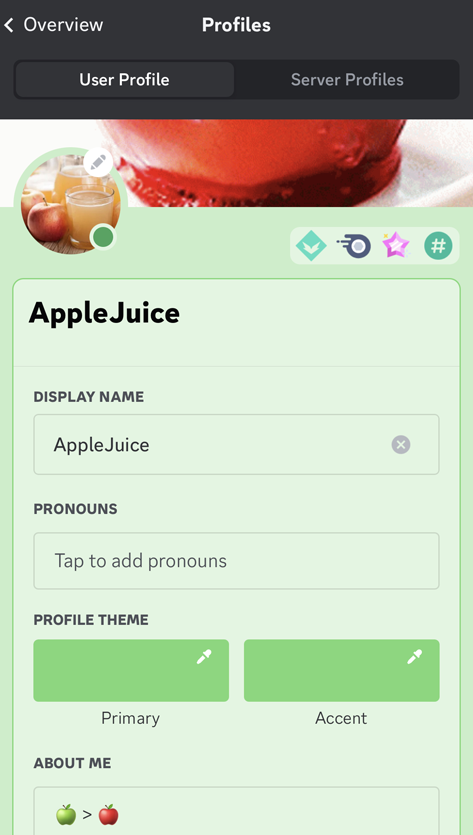 How to Customize your Profile
Avatar
Nitro
subscribers can upload animated GIFs as their profile avatar.
After heading to your Profiles tab you can change your avatar via the Change Avatar button or by tapping on your current avatar.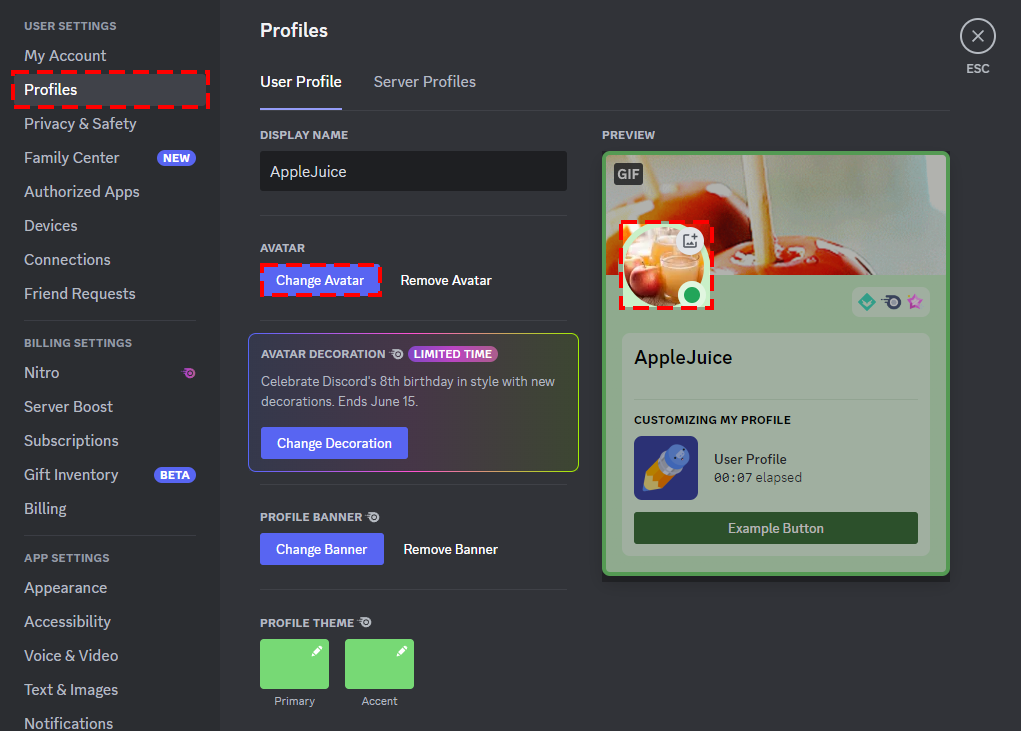 Here you can either upload your own image or choose a GIF (if you're Nitro subscriber) as your Avatar. Supported file types include PNG and GIFs.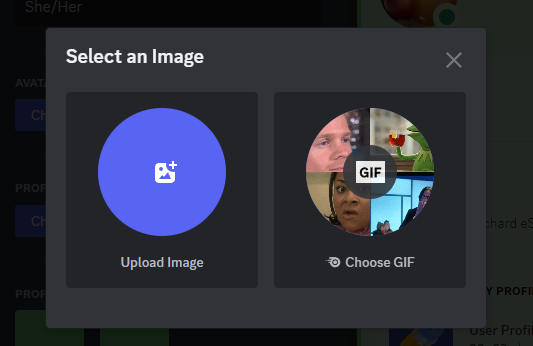 After uploading your image or selecting your chosen GIF, you can then crop the image to fit your desired look for your avatar or tap on Skip to skip this step.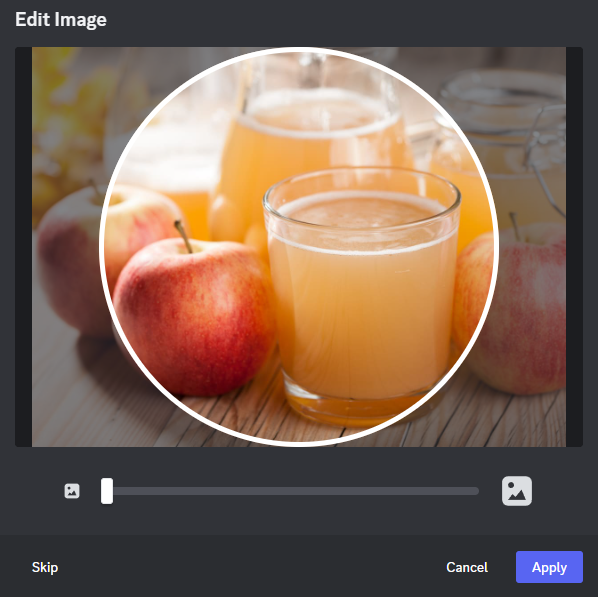 Once you're happy with how it looks, tap on Apply to save changes.
Avatar Decorations
Nitro
subscribers can purchase and apply
Avatar Decorations
to their profile's avatar.

We're slowly rolling out the shop so it may not be available to all users at this time.
Want to add more razzle-dazzle to your avatar? Apply a decoration to it!
Avatar Decorations are unique cosmetics designed to style your avatar with fun and charming looks that you can wear for any occasion.
Nitro subscribers can preview, purchase, and collect their favorite decoration styles from the shop, which can be located in your User Profile and Nitro tab.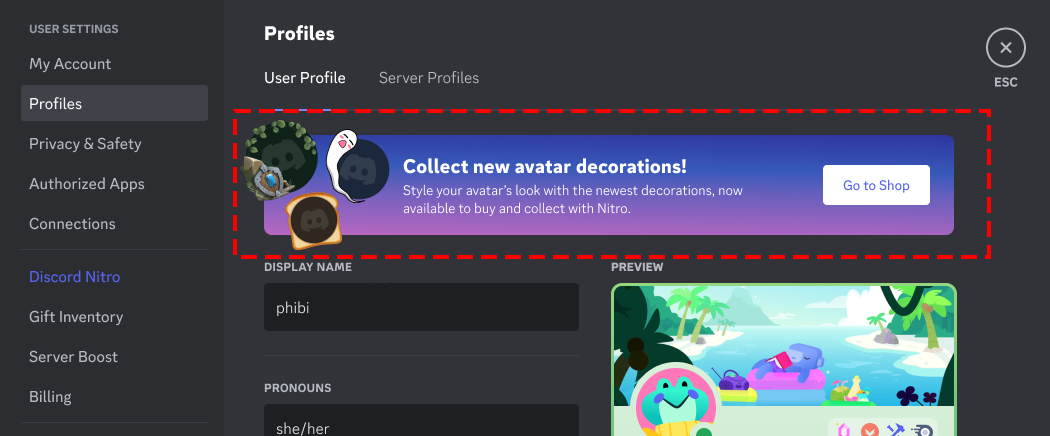 Purchased decorations are yours to keep and get added to your collection - you can find them in your Profiles tab > Change Decoration.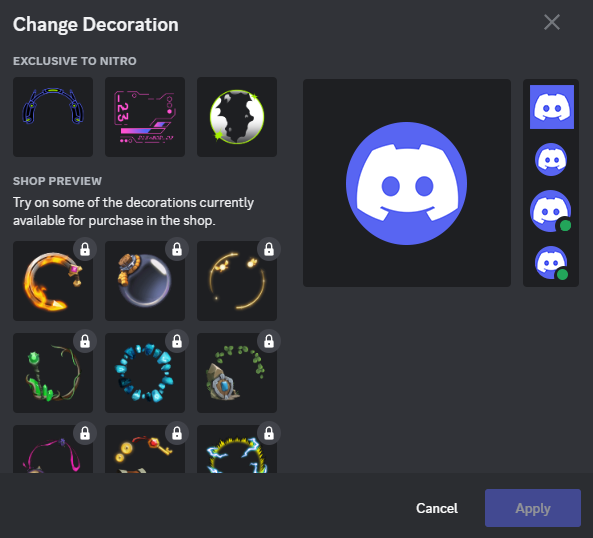 Once you've decided on the decoration you'd like to use, apply it and save your changes!
"About Me"
Nitro
subscribers can also use
custom emojis
in their About Me.
You can share a little about yourself in your profile card in the About Me section. What are some games that you're playing right now? Do you have a favorite quote? Favorite emojis? Include all of this and more!
The About Me section can contain the following:
Up to 190 characters (this includes emojis, markdown text, and links)
Emojis
Markdown text and links
Unicode characters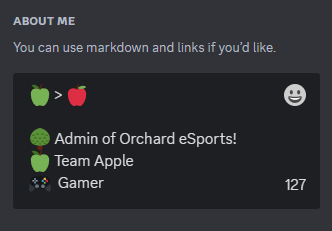 While you fill out your About Me, you can see a preview of what it'll look like. Once you're finished, just tap on Save to save changes.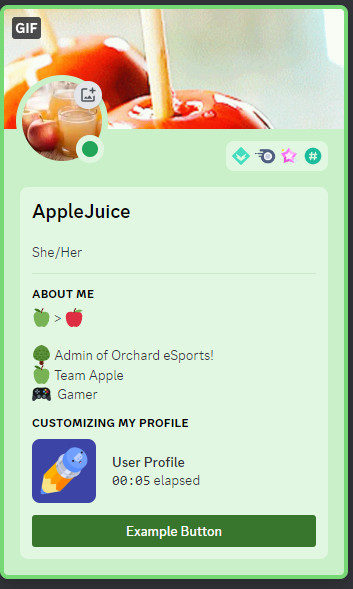 Pronouns
This feature is gradually rolling out to everyone.
You can add your preferred pronouns in the Pronouns section.

After filling out your preferred pronouns, you can press on Save to save changes.
Banner
Only
Nitro
members can upload an image or animated GIF as their profile banner.
Supported file types are PNG, JPG, and animated GIFs under 10MB. Images should also be at least 680x240 pixels.
1. To upload a banner tap on the Change Banner button.

2. Here you can either upload your own image or choose a GIF to use as your banner (if you're Nitro subscriber).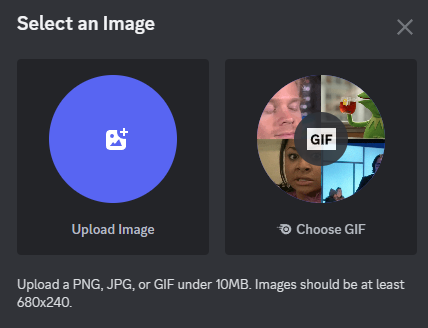 3. After uploading your custom image or selecting a GIF, the option to crop will appear. Once it looks exactly how you want it to, you can tap on Apply. If you tap on Skip, it'll crop it with the default settings.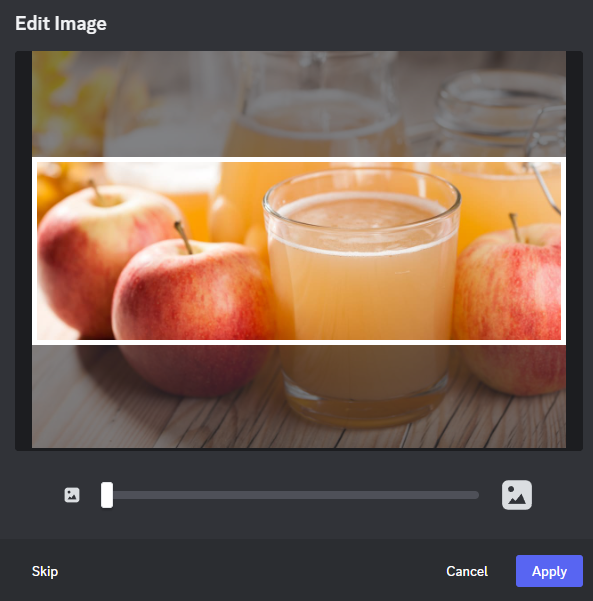 Theme
Nitro subscribers can also edit their Profile Theme!
You can select both the Primary and Accent colors for your profile.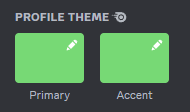 After selecting a color, you can see a preview of what your Profile will look like before you save changes.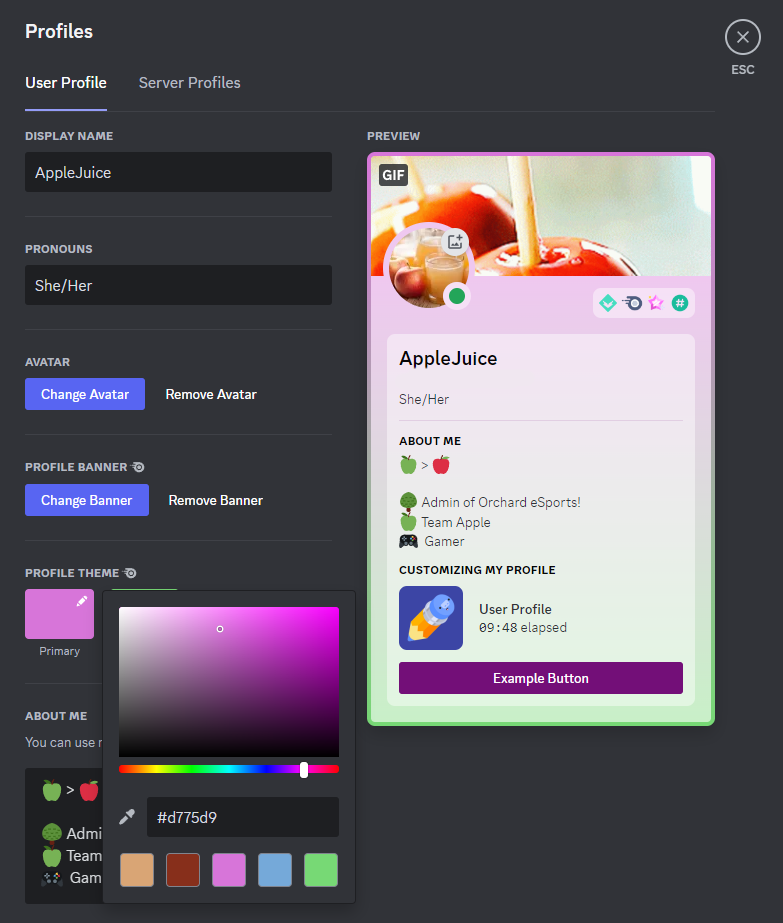 After choosing your desired colors you can then tap on Save to save changes.
And that's it! Now go ahead and customize your profile to your liking.