Note: This feature is slowly rolling out so not everyone has access yet. Stay tuned for more details!
What is the Account Switcher?
The Account Switcher enables Discord users with multiple accounts to easily access and switch between these accounts on desktop.
How do I access the Account Switcher?
Click on your avatar image at the bottom left of your Discord app, then select "Switch Accounts".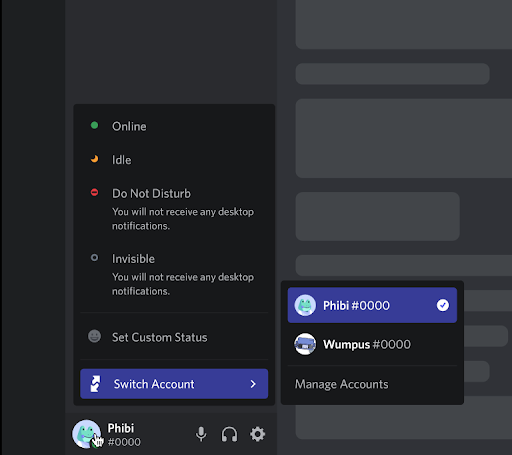 How many accounts can I log into with the Account Switcher?
You can log into five accounts using the Account Switcher.
Will the Account Switcher show Discord users my other accounts?
No. The Account Switcher makes it easier for you to switch between your accounts. It does not show other users which accounts you are switching between.
Will switching between accounts reset any preferences?
Some preferences will be reset when you switch between accounts. Items of note include appearance settings such as font scaling. Drafted messages will also not be stored when you switch between accounts.
Will the privacy settings I have chosen for my accounts change because I use the Account Switcher?
No. Your Privacy & Safety settings for your accounts will not change when you use the Account Switcher.
I have multiple accounts. If I violate Discord's Terms of Service or Community Guidelines and our Trust and Safety team decides to take action on my account, might they take action on more than one of my accounts?
Yes. To keep our community safe, if a user violates our Terms or Guidelines we may take action on any account that we can determine belongs to the user. This could include accounts entered into the Account Switcher. The more severe the violation, the more likely we will take action across a user's accounts.