Crisis Text Line with Discord is only available in the United States.
Discord is partnering with Crisis Text Line, a nonprofit that provides text-based volunteer support for people in crisis.
Mental wellness is important to us. With this partnership, our goal is to enable people to get the help they need for themselves, or empower a friend to get help, as quickly as possible.

What this article covers:
How to use Crisis Text Line
Text DISCORD to 741741.
Crisis doesn't just mean thinking about ending your own life. It's any painful emotion and anytime you need support.
We also surface Crisis Text Line within the Discord mobile app:
Report a message within the Discord mobile app from iOS or Android by tapping & holding on the message you want to report, then by selecting 'Report' in the dropdown menu.

Select your issue from the drop-down menu.

If you are reporting for self-harm*, you will be presented with the below screen providing information about how to reach Crisis Text Line.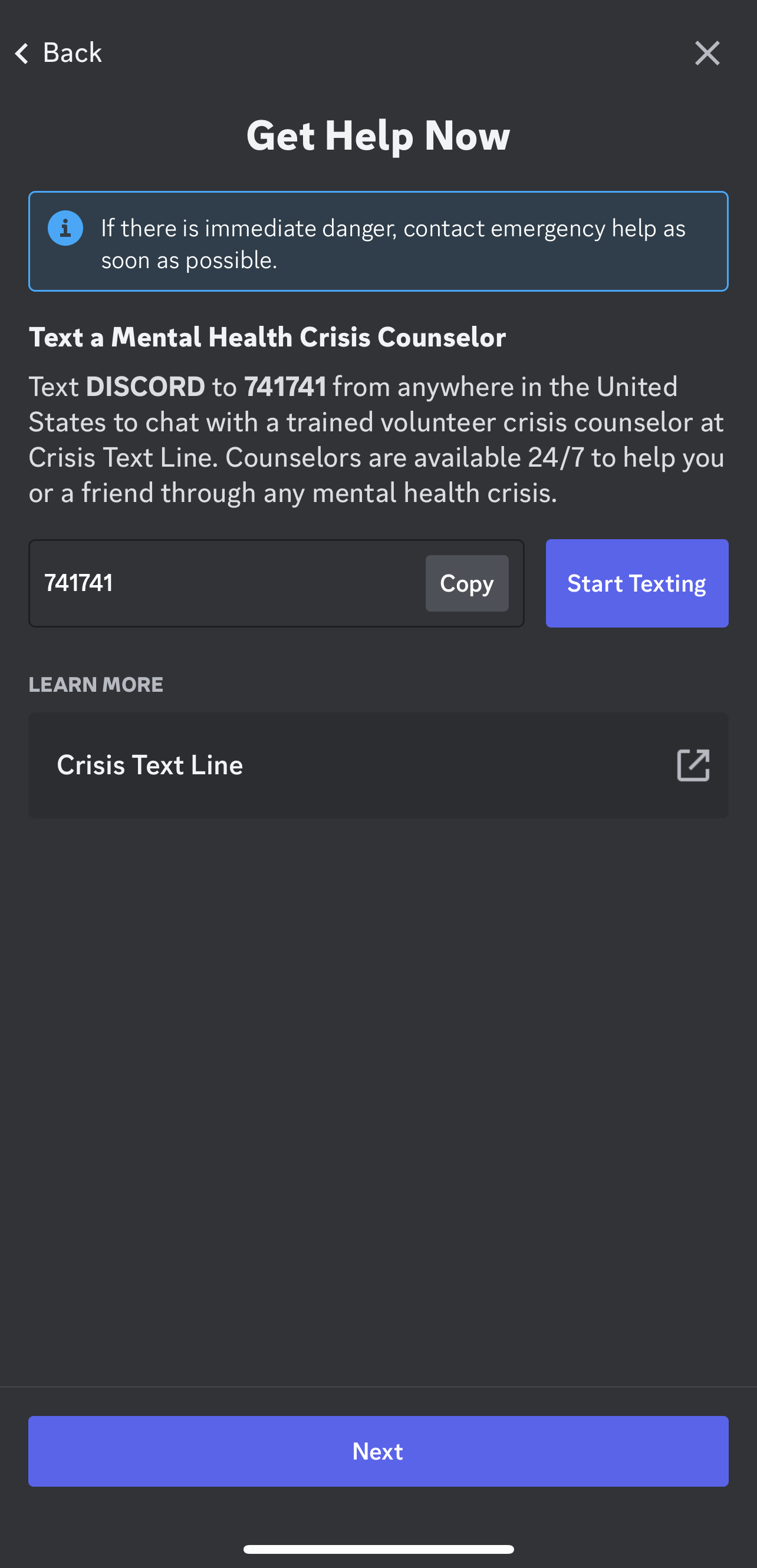 From here, you can send resources to a friend to assist them in getting the help they need.
Alternatively, you can text Crisis Text Line directly to get the help you need for yourself, including advice and support for helping a friend through a crisis.
Additional resources are available below.
Where is Crisis Text Line Available?
You can text Crisis Text Line in the US. Support is currently available in English and Spanish.
Additional Resources
Below are several crisis hotlines you can contact for support. You can also refer to a number from this list of worldwide crisis hotlines here. Although Discord is not affiliated with staff at these hotlines, they're trained to help and guide callers with ways to address things that are bothering them.
International Lifeline Support: The Lifeline number is available 24/7 for emotional support (1-800-273-8255).
USA 988 Suicide & Crisis Lifeline: 988 offers 24/7 access to trained crisis counselors who can help people experiencing mental health-related distress. That could be:
Thoughts of suicide

Mental health or substance use crisis, or

Any other kind of emotional distress
People can call or text 988 or chat 988lifeline.org for themselves or if they are worried about a loved one who may need crisis support.
988 serves as a universal entry point so that no matter where you live in the United States, you can reach a trained crisis counselor who can help.
Law Enforcement: If you feel like another user is in urgent trouble you may consider contacting law enforcement right away and letting them know what's going on, regardless of the information you're able to provide. They generally have more investigative resources and can contact us for information that we aren't able to disclose to others.
Resource Library: In addition to support via text, Crisis Text Line provides a resource library to support people in crisis. These resources include information about how to recognize and cope with various issues, as well as links to additional websites, apps, and tools to support individuals in the moment.