Want to share some extra special perks with your favorite community? With Server Boosts, you and your community will now be able to work together to unlock some fresh new and improved collective perks for a server of your choice each month. By using your Server Boosts every month, you can unlock some epic perks to the rest of your server community!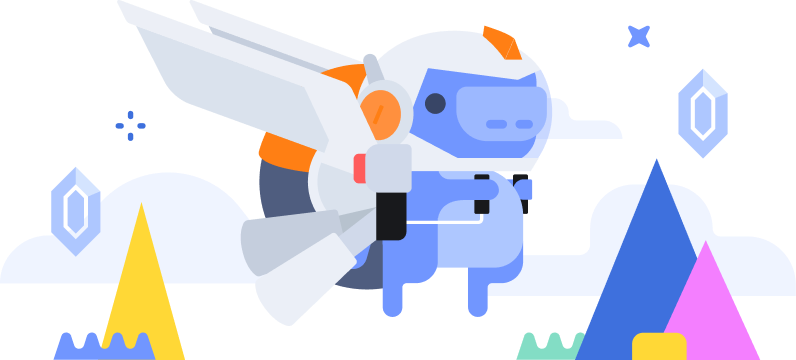 Start your engines and get ready to ✨B O O S T✨!
What this article covers:
Looking to cancel your Server Boost? Please check out our article on how to cancel a subscription.
What are the levels and perks for Server Boosting?
Here is how many Server Boosts are required for each level and an overview of the perks you can get.
Server Level Perks
Level 1 Perks (2 Server Boosts)
Level 2 Perks (7 Server Boosts)
Everything in Level 1 and…..
+50 Emoji Slots (for a total of 150 emojis)
256 Kbps Audio Quality
Go Live streams boosted to 1080P 60FPS
Server Banner
50MB Upload Limit for all members (server only)
+15 custom sticker slots (for a total of 30)
Custom Role Icons
Audience capacity for Stage Channels with Video/Go Live: 150
36 Soundboard slots
Static server banner
Level 3 Perks (14 Server Boosts)
Everything in Level 1 AND Level 2 AND…..
+100 Emoji Slots (for a total of 250 emojis)
384Kbps Audio Quality
100MB Upload Limit for all members (server only)
+30 custom sticker slots (for a total of 60)
Audience capacity for Stage Channels with Video/Go Live: 300
60 Soundboard slots
Animated Server banner
Boosting Badge Perks
When you boost a server, you'll also see this new shiny badge in your User Profile to display your love for boosting servers.
This badge will evolve after it reaches a certain milestone of time as you continue your streak for boosting servers.
As long as you keep boosting your favorite server, that badge will continue to evolve while you reach extra levels.

Nitro Subscription Perks
Subscribers get to enjoy Server Boosting perks depending on the plan!
Nitro subscribers get 2 server boosts that they can apply to any server, plus a 30% discount on any future Boost purchases.
Nitro Classic subscribers also get a 30% discount.
Nitro Basic subscribers do not get a discount or Boost perks.
To see the full list of perks in all plans, head here.
How do I Boost a Server?
If you're still on the fence of which server you want to boost, just remember that while you can move your boost from one server to another, there's just a 7 day cool-down period to make that change.
So you're ready to boost your favorite server? Let's go over on how to do so!
Choose your servers wisely and follow these steps below.
1. Once you're sure about the server you'd like to boost, navigate to that server.
2. Tap on the server name in the top left corner and then tap on Server Boost from the dropdown menu.
3. Then tap on Boost This Server. If you have any unused Server Boosts, you'll then receive a pop-up to proceed with boosting the server. If you do not have any available Server Boosts, you'll receive a pop-up in order to purchase a Server Boost.
4. Follow the prompts to complete applying your Server Boost(s) to the server. Once finished, you'll receive a final pop-up that says your boost has been activated.

If you'd like to Boost your server directly to the next Level in one button click and save your brain from any extra math problems, check out this support article
here
!
How to maintain your Boosting Streak
If you have been removed from a server that you were boosting, you will have a 7 day cooldown before you can use your boost again. Learn more about transferring a boost below.
If you are also switching your purchase from desktop to mobile or vice versa, you have 72 hours to manually reactivate your Server Boosts in order to not lose your streak.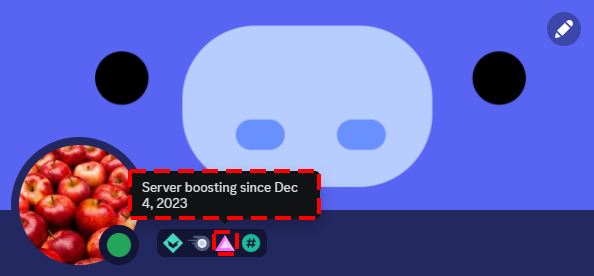 Your Server Boosting Badge and streak is based on the length of time that you have been boosting a server. Regardless of how many servers you boost, the length of your streak is dependent on the oldest applied server boost(s). You can see your boosting streak by tapping on your avatar icon to reveal your user profile and hovering over your Server Boosting badge.
You can lose your boosting streak for any of the following reasons:
You cancel your Server Boost(s)
The server you have been boosting has been deleted
You've been removed from the server by an admin or moderator
If you stop boosting a server for any of the listed reasons, you have 72 hours to reapply your boosts to a new server in order to maintain your streak. If you do not boost another server within 72 hours, you will lose your streak and our Support Team can not adjust your streak.
How do I Transfer my Server Boosts?
After using your Server Boost, you'll need to wait 7 days for the cooldown before transferring it to another server.
If you accidentally boosted the wrong server, or you just want to move your boost, you can easily transfer your Server Boost to another server! Just keep in mind, if you move your boost to another server, the original server might lose a server boost level. Here's how to transfer your boost.
1. Tap on cogwheel next to your Discord username to access your User Settings.
2. Next, navigate to the Server Boost tab.
3. Here you should see the current servers that your Server Boosts are applied to. Tap on the 3 dots next to the Server Boost that you want to move, and then tap on Transfer Boost.
4. You can either search for the name of the server you want to transfer the boost to, or you can tap on Transfer here if you see the server in the list. In order for a server to show up in the list, you must be a member of the server.
5. Now just tap on Yes, Transfer Boost to transfer the Server Boost.
6. Finally you'll see a confirmation message stating it has been transferred successfully.
Server Owner/Admin View Of Server Boosts
If someone uses a Server Boost on your server, and you have the option enabled, you'll see a message in your designated text channel that states someone has boosted the server.

If you're the server owner or have Manage Server permissions, you'll be able to select which channel the Server Boosting message will appear in, or toggle this option on/off within the Overview section in your Server Settings. Here's how:
1. Navigate to the server you own or have Manage Server Permissions in, and then tap on the server name in the top-left corner of the app.
2. Tap on Server Settings and then under Overview, scroll down until you see System Messages Channel.
3. Here you can change where the system message is sent to and can also enable or disable Send a message when someone boosts this server.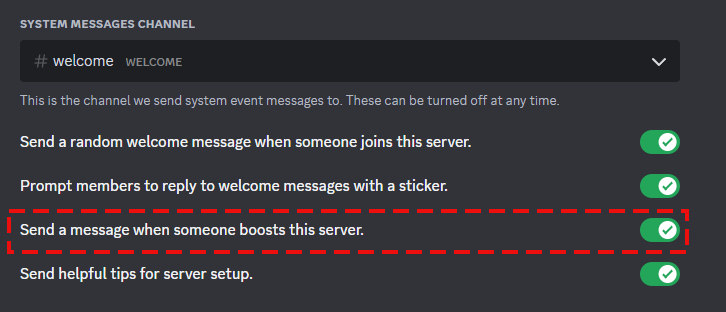 If you're the server owner or have Manage Server permissions within the server, you'll also be able to go behind the scenes and head into the Server Boost Status tab in your Server Settings and see:
Your server's current level + perks
How many people blessed the server with Boosts
And how many more Boosts you need before your server reaches the next level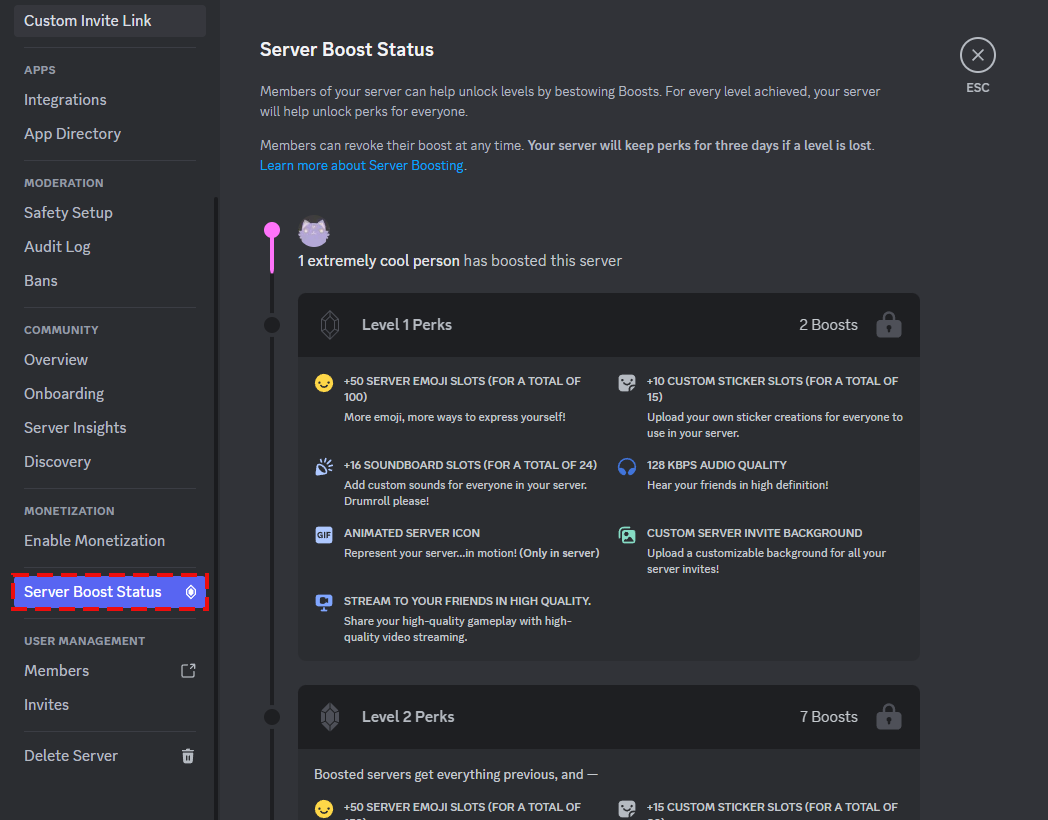 If your server is running low on Server Boosts and loses a level, the server will be able to keep the perks for a grace period of 3 days. After 3 days, the perks (such as the server banner and extra emojis) will not be fully removed from the server, but will become temporarily invalid until the level is regained.
However, the Custom Invite Link will be lost and become available to other servers after 3 days.
Want to see different perks added to this in the future? We'd love to hear all your feedback and suggestions over at http://dis.gd/feedback!