Now that you've registered and verified your account, you can follow these steps below to login to your app if you're ever logged out!
Note: If you haven't verified your account yet, make sure to do so, otherwise you risk losing access to your account. Check out this link for more information!
Logging into Your Account
If you're on a browser, start by heading to https://discord.com/login!
If you're on a desktop or mobile device, you can directly open the Discord app on your device! (You can learn more information on downloading the app here.)
Once you're at the login page, type in either 1) your email address or 2) phone number that has been officially verified to your Discord account in the first text box.
Note: You will need to verify your phone number to your Discord account before using phone number login! Click here to learn how to verify your phone number to your Discord account.
In the second box, type the password associated with your account!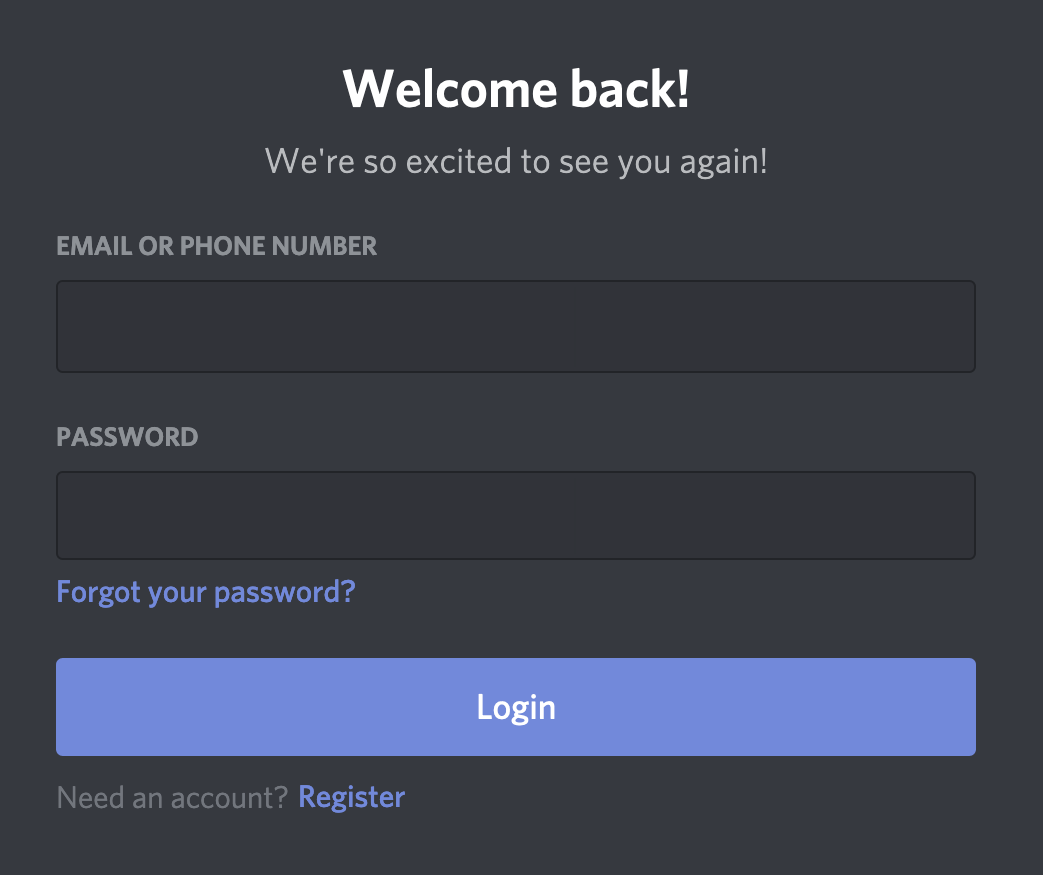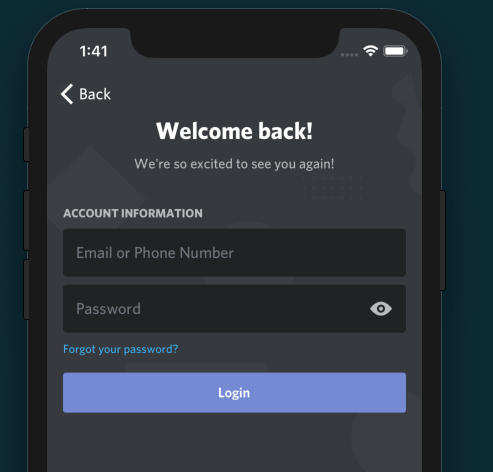 QR Code Login
If you already have the mobile app for Discord, and you want to login quickly and securely on the desktop and mobile app, you can also use the QR Code Login!
In order to use QR Code Login, start by logging into your Discord account on the mobile device.
Then open the User Settings menu in your Discord mobile app, then select the Scan QR Code option.
Note: The app will ask for camera permissions on your mobile device in order to scan the QR Code!
Once the scanner's open, simply line up the box with the QR code on the screen, and then you'll be asked to verify your Discord login on the mobile device.
For more information on this login process, make sure to check out this link here.
Note: Never approve a QR code login that you didn't generate yourself! If you've been sent a QR code by someone else that opened the login verification screen, hit cancel right away.
One-time Login Code Experiment
We're currently running an experiment that will allow you to provide an email address or phone number, and an 8-character login code will be sent to you via email or SMS.
Once you receive this login code, you can then enter this code back in the app to complete the login process.
Note: This is an experiment at this time and not everyone will receive access to this experiment! Stay tuned for more details in the future!