If you've taken a stroll through Server Discovery, you've probably noticed two distinct badges next to some server's names: One that's a green checkmark you may have seen on other platforms, and a fancy infinity-style blurple logo.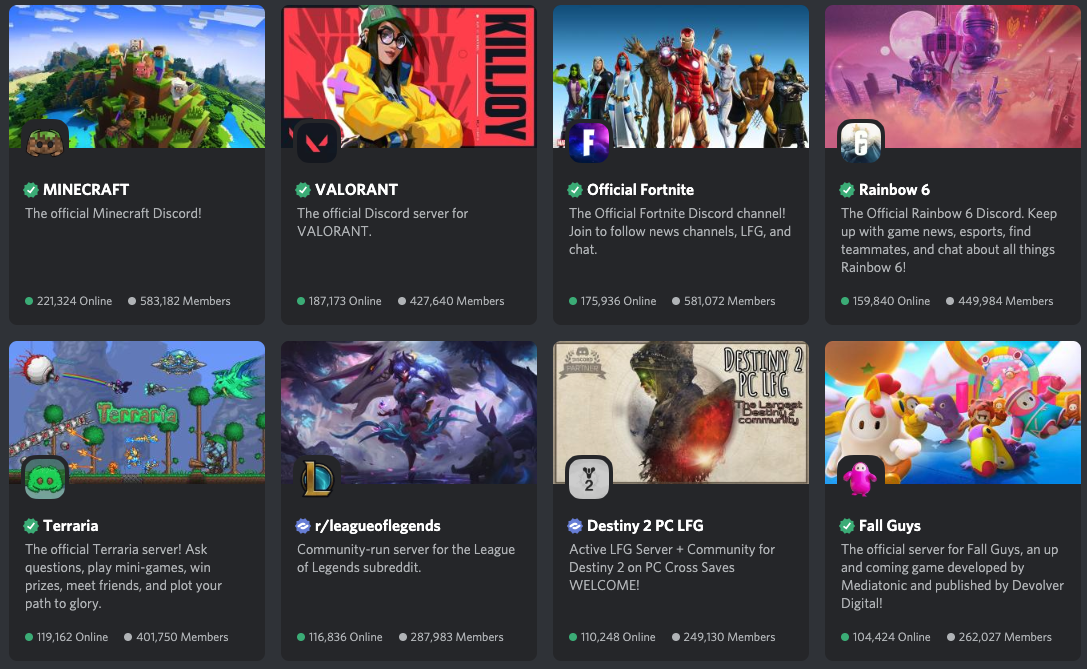 These servers are part of either our Partner Program or are Verified Servers. For the main differences between the two, here's the lowdown:
What is a Verified Server?
Verified Servers are communities run by businesses, brands, and figures of public interest. When you see a Verified badge, you'll know you're in the official home for that brand, person or any other subject matter.
Acceptance for Server Verification grants your server access to a Vanity URL, invite splash background, and the Verified Server badge.
If you own the server of a well-known business, brand, or you're a public figure with a strong following, you may qualify for verification. Check out our Verified Server Requirements article before applying.
What's a Discord Partner?
The Discord Partner Program is designed to reward quality, engaged servers with recognition and extra tools to help them invest in their community. If you see a Partner badge next to the server's name, you know it's one of the best communities out there.
Acceptance for the Discord Partner Program includes both a Vanity URL and an invite splash, along with a Server Banner and animated Server Icon, a Discord Partner badge for both the server and the server owner, and the owner gets Discord Nitro, on the house.
Anyone can apply for the Partner Program, but you'll need to hit some requirements before being able to apply. Get the full scoop on what we look for in a Partnered server here.
What are the differences? Can I be both?
Discord Partners are considered the best of the best. Verified Servers are official servers for businesses, brands, and figures of public interest. But what if a Verified Server is also one of the best communities out there?

If you qualify for both programs, you can be in both programs. A Verified Server can apply for the Discord Partner Program if they reach the Partner Program requirements.
If a server is in both programs and is removed from one, it can remain in the other. For example, if a server is both Partnered and Verified and loses Partnership, it can stay Verified and retain any perks that are tied to being a Verified Server.

As for the perks that come with each program, here's the lowdown on what each one gets:
| | | |
| --- | --- | --- |
| Perk | Verified Servers | Partner Program |
| Vanity URL | Yes | Yes |
| Invite Splash | Yes | Yes |
| 384kbps Voice | No | Yes |
| Lottie Files for Custom Stickers | Yes | Yes |
| Animated Server Icon | No | Yes |
| Server Banner | No | Yes |
| Discord Nitro for Owner | No | Yes |
| Verified badge on Server | Yes | No |
| Partner badge on Server | No | Yes |
Important thing to note: If you're part of both programs, your Verification badge will override the Discord Partner badge visually. However, you still receive all server perks that come with Partnership, and a Partner badge for yourself.