Important Notes:


- Before claiming a gift, make sure you are logged in the correct Discord account on the desktop/browser version of the app!
- If you accidentally claimed the gift on the wrong account, Discord is unable to provide you with another code or transfer the gift!
What does this Article Cover?
Claiming a Gift sent within Discord
If you're already logged into your account on the browser or desktop version of the Discord app, you can easily claim a gift!
If you're in a DM or server in Discord and you've received a gift link, you can directly click on the green "Accept" button that's tied to the gift!
You'll see a new pop-up asking you to confirm the acceptance of the gift! Press the "I accept" button in this confirmation window to apply the gift to your Discord account!
After accepting the gift to your account, you'll then see a confirmation that the subscription has been directly applied to your Discord account!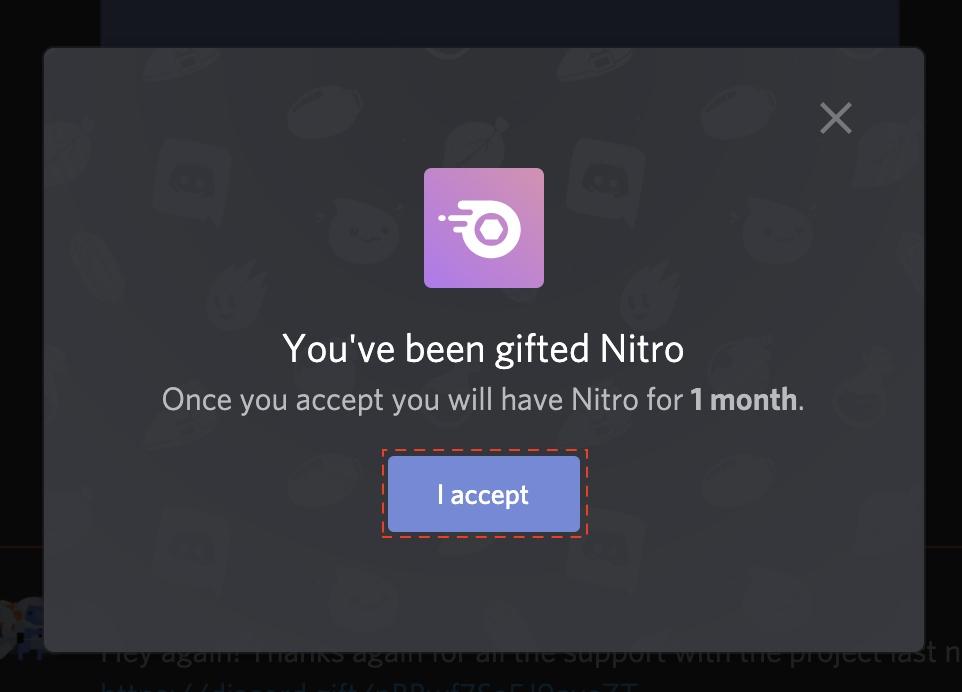 Claiming a Gift sent outside of Discord
If you receive a code within your email or through another platform, you can follow these steps below to claim your gift to your Discord account!
Step 1 - Clicking the Gift Link
Start by directly clicking the gift link or copying and pasting the gift link into your browser window.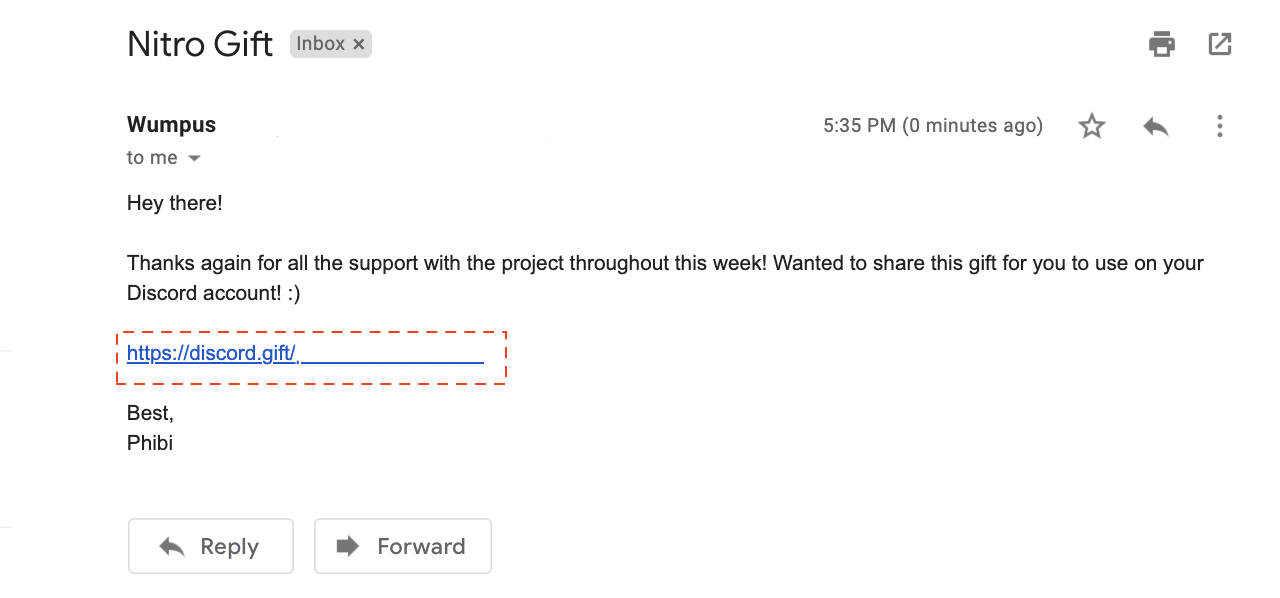 Step 2 - Logging into Discord
If you're not logged into Discord already in your browser, you will then be automatically redirected to either:
Register for a New Account

If you don't have an account, you can directly register a new Discord account

Login to your Account

If you already have a Discord account, you can login to your account using your email and password or using QR code login
Step 3 - Confirming the Correct Account
Once you have logged into your Discord account, you'll see a new message asking you to confirm that you are accepting the gift on the correct Discord account.

You'll see a warning saying: "You are accepting this gift as _________"

When you're ready to claim this gift, press the "Accept Gift" button.
Note:
If you're logged into the incorrect Discord account, press the "
Wrong account

" button to login to the other account!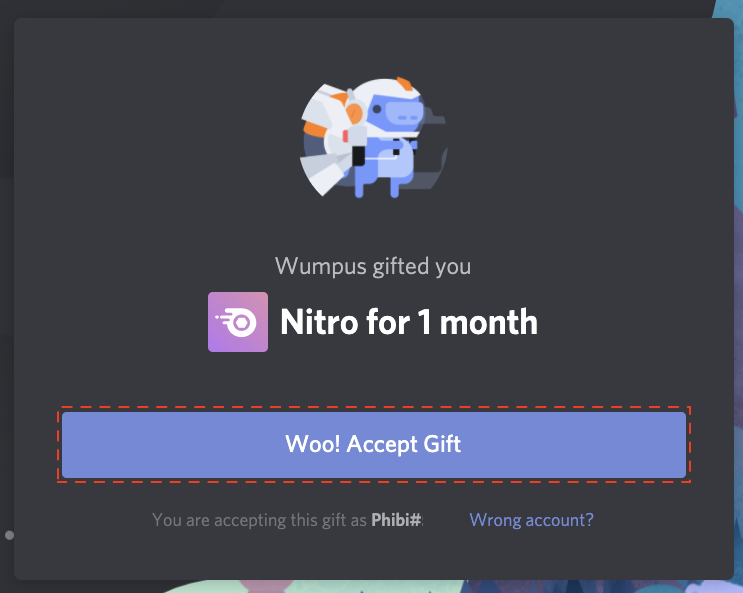 Step 4 - Gift Now Activated
After accepting the gift to your account, you'll now be automatically redirected to your Subscriptions tab in your User Settings to see your newly activated gift subscription on your account.

Already Claimed Gifts
If you're not sure when a gift has been claimed or not, you can double check by clicking and opening the link in your browser! If a gift has been successfully claimed, you'll see a "This gift has already been claimed" error in the browser.
If you're already using the browser or desktop version of Discord, and you're viewing a gift link shared within Discord, you'll see there is a grayed out "Claimed" button in the gift after it has been claimed!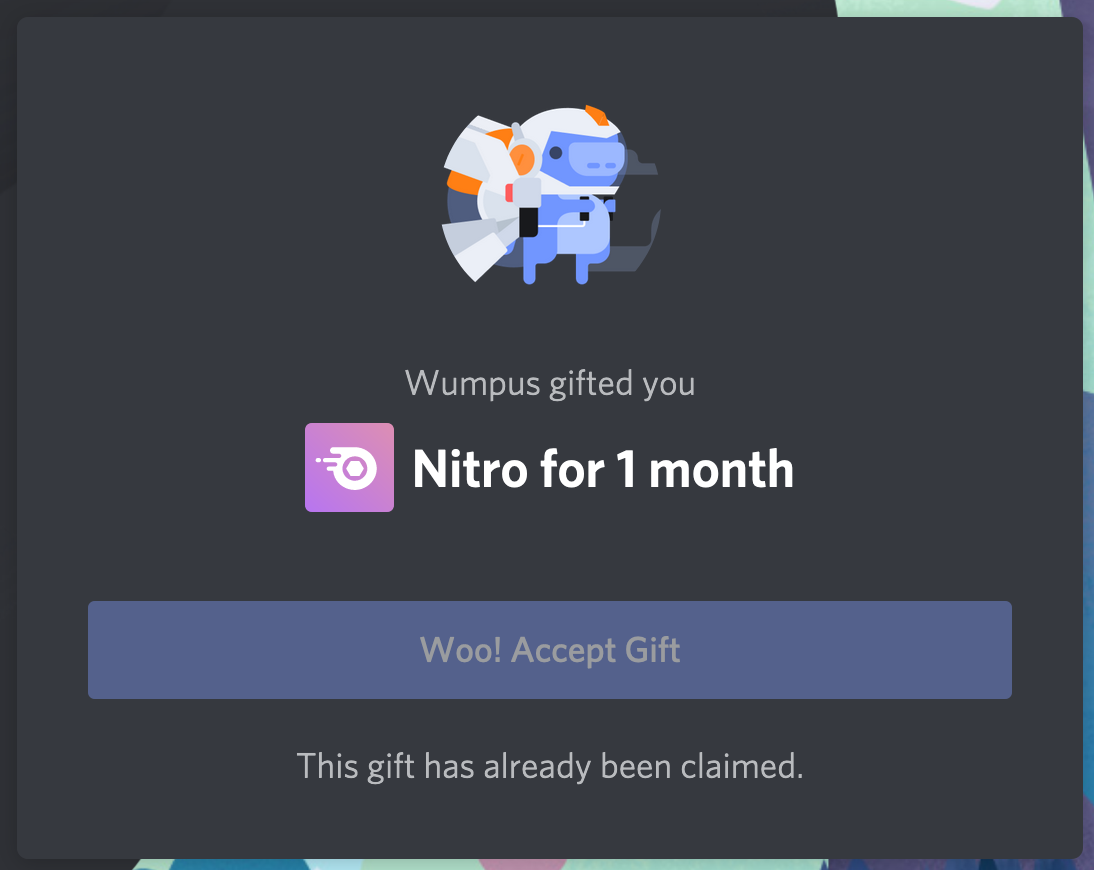 What if I already have an Active Nitro Subscription?
Whenever you accept a gift while you have a running subscription, or accept a gift that differs from your current subscription, that gifted subscription will be added to your Discord account as Account Credit.
To view your Account Credit:
Start by logging into your Discord account on the desktop or browser version of the app
Head into your User Settings (by clicking on the cog icon in the bottom left corner)
Then select the Subscriptions tab in the left side bar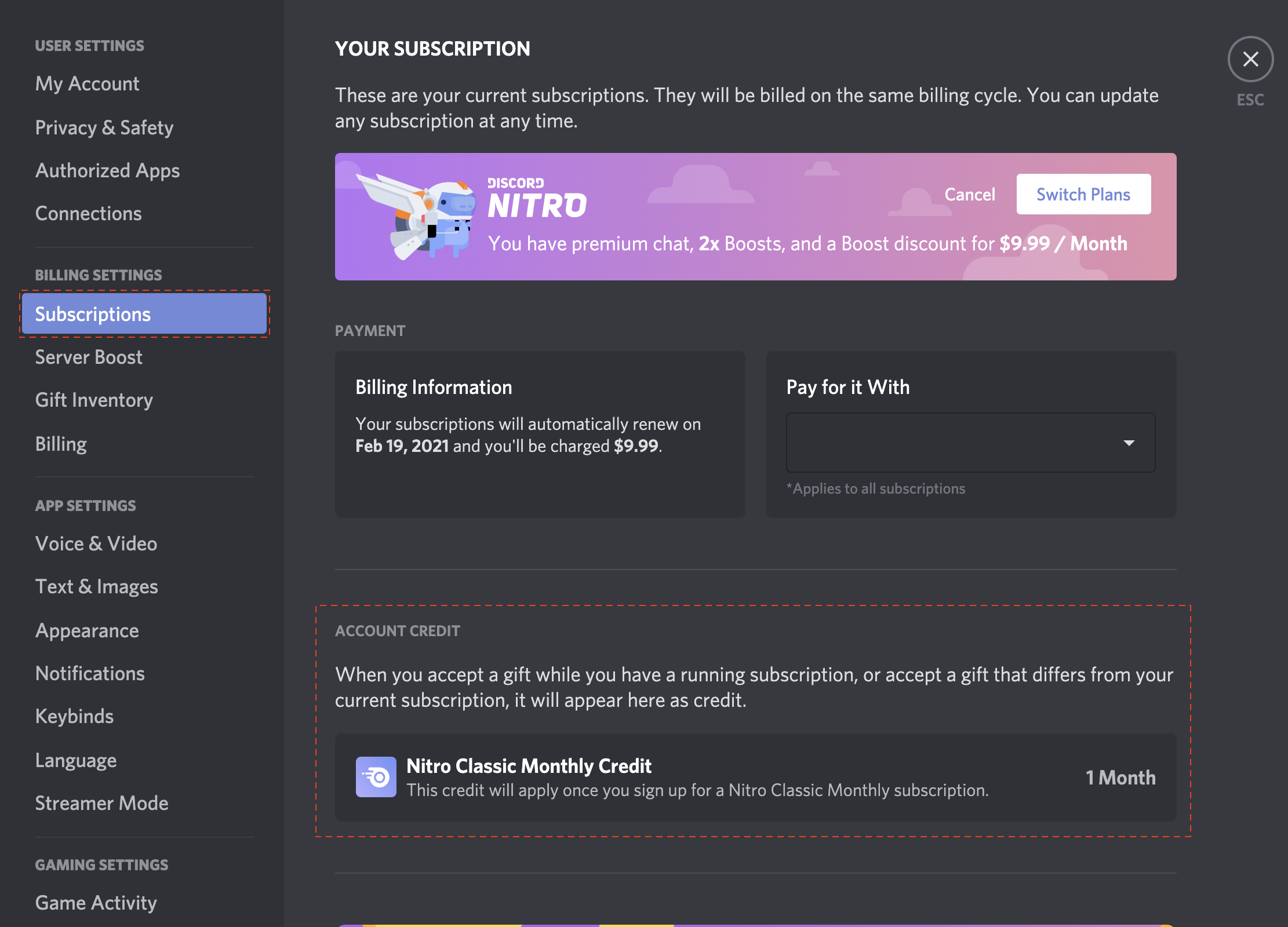 Note:
Account Credit can only be used for desktop/browser subscriptions. It cannot be used on Google Play or iOS App Store subscriptions.
How do I activate my Account Credit?
When your current Nitro subscription has expired or is removed, the Account Credit for the gift will apply when you activate that matching subscription on the desktop/browser Discord app!
For example, if you currently have 9.99 Nitro Monthly Credit, you will need to activate a 9.99 Nitro Monthly subscription to use this account credit!
Note:


- The account credit will only be consumed for redeeming exact
matching

subscription plans in both type and time! (Nitro > Nitro, Nitro Basic > Nitro Basic, Monthly > Monthly, Yearly > Yearly)
- If the subscriptions do not match, the account credit will not be applied!

To activate the matching subscription:
Start by heading to the Subscription tab, you'll need to press the Subscribe button for the matching subscription type for Discord Nitro or Nitro Basic.

Then a new window will pop up where you will need to select the matching plan for the subscription.

If your Discord account does not have your payment information, you'll be asked to fill out your payment details. (Note: You will not be charged unless the subscription renews)
Once you've finished submitting that information, you'll then see a "Subscription Credit applied" message as you are reviewing the purchase details for activating the subscription
After you confirm your activation, your gifted subscription will then be activated!
Have any other questions?
If you have any questions around claiming gifts or account credit, just contact our support team at dis.gd/billing and we'll be able to look into your question further from there!