Want your friends to express themselves on Discord with unique emojis, custom profiles, and more? You can, by gifting monthly & yearly subscriptions of Nitro & Nitro Basic to your friends, whether you're on desktop or mobile devices.
What this article covers:
How to Purchase a Nitro or Nitro Basic Gift
To get started, you can head into the Discord app or purchase a gift code via Amazon!
Purchases via Discord
1. To start, open up the Discord app and next to your username access the cog wheel to go into your User Settings.
2. Select Nitro from the left-hand panel. On this page, you'll see an option to purchase Nitro at the top, and if you scroll down you'll see the option for Nitro Basic as well.
3. Press the Gift button under the subscription type (Nitro or Nitro Basic) you want to purchase for your friend.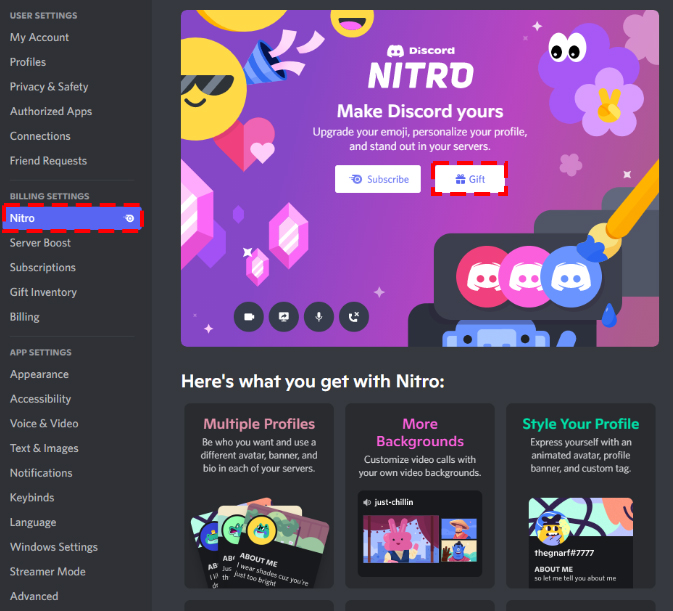 4. Follow the prompts to purchase your Nitro or Nitro Basic gift!
A new window will come up to tell you that you're purchasing a gift of Nitro. You'll even see the option to purchase a yearly or monthly gift.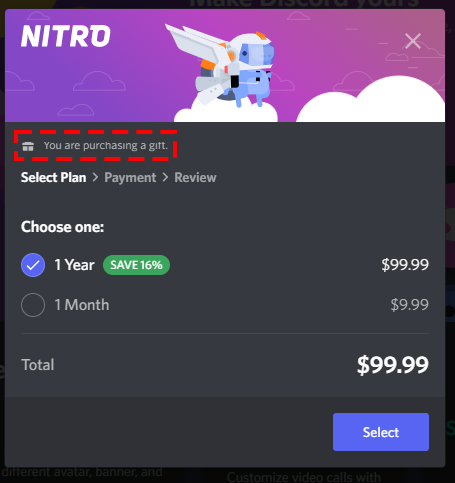 Simply & easy! Once the payment is complete you'll then be presented with the shareable, unique link that'll allow another user to claim this gift of Nitro. Provide this link with that lucky somebody & they'll be able to claim the gift!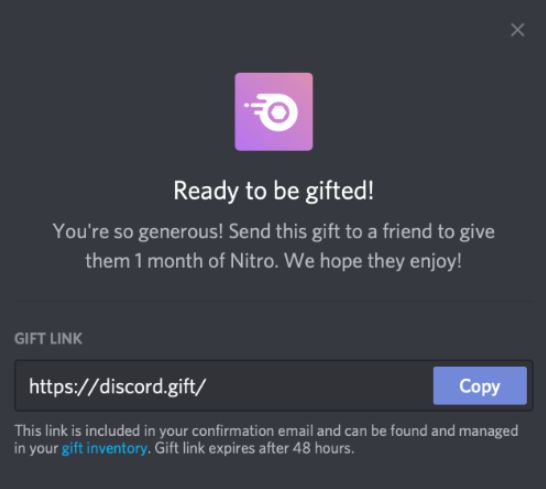 Once a gift of Nitro has been claimed by another user, you (or this user) won't be able to unclaim the gift. Our support team is unable to issue a refund for a claimed Nitro gift. Our standard refund policy applies, but only for an unclaimed Nitro gift.
Discord Nitro Digital Gift Cards on Amazon.com
This is currently only available to Amazon customers in the United States.
1. To purchase a gift card for Nitro on Amazon, you can visit the Discord Nitro gift card page or use Amazon Search to find Nitro gift cards.

2. Once you have navigated to the page, you can purchase the following subscriptions:
1 month of Nitro

3 months of Nitro

6 months of Nitro

12 months of Nitro
Note: Discord Nitro Basic will not be available for purchase through the Amazon gift card page.
3. Once you have completed your Amazon purchase, the gift card will be sent as a digital code to your email address associated with your Amazon account. You can also access your digital code within Your Games Library page via Amazon.
Now you can apply the digital code through Discord to activate your subscription or send it to a lucky somebody as a gift!
Note: If you have any questions regarding your Nitro digital gift card purchase through Amazon, please be sure to reach out to Amazon support for further assistance.
Managing Your Nitro Gift
If you missed the shareable link for any reason, you can always access it at any time as long as the gift hasn't been claimed already.
Head to User Settings > Gift Inventory you'll see your unclaimed Nitro gift here. You'll be able to revoke a Nitro gift link & generate a new one.
Please note, only unclaimed gifts will be listed here, any claimed gifts will no longer display in your inventory. If you are looking for your Account Credit, go to the Subscriptions tab in your User Settings.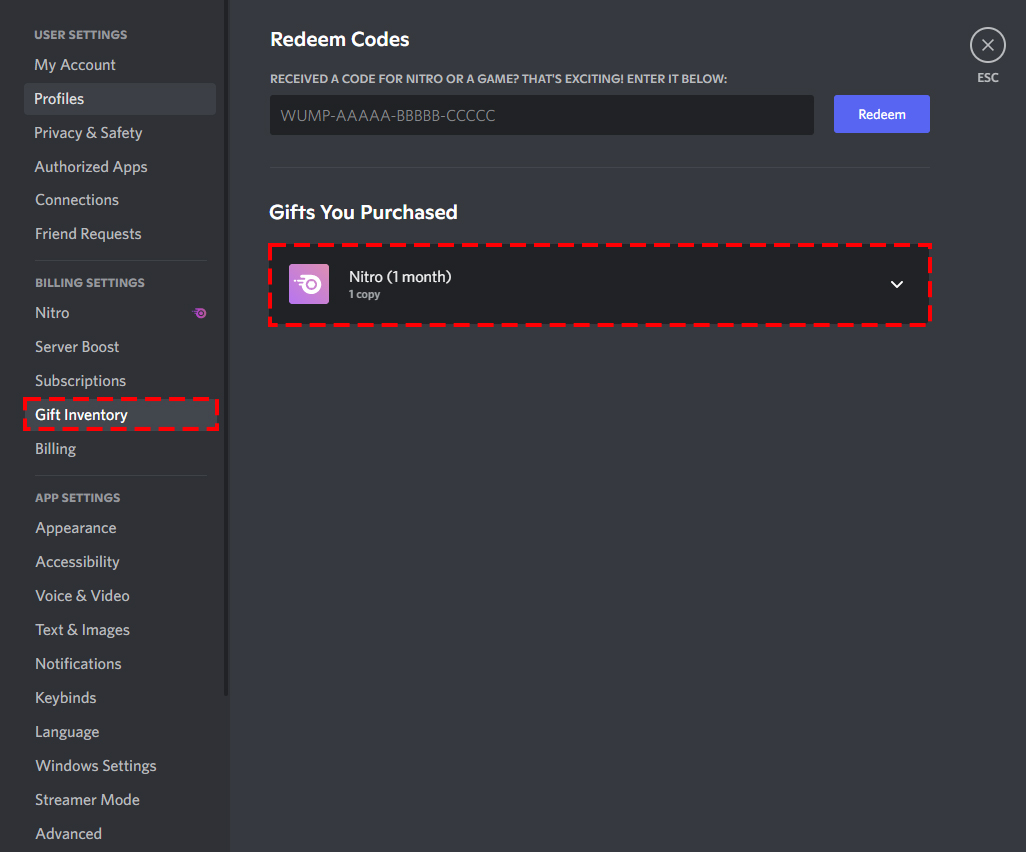 Super important to note that once you share this link with another user, that user will be able to claim this gift of Nitro. When sharing a gift to someone else, we recommend sending it in a DM to ensure no one else can claim it!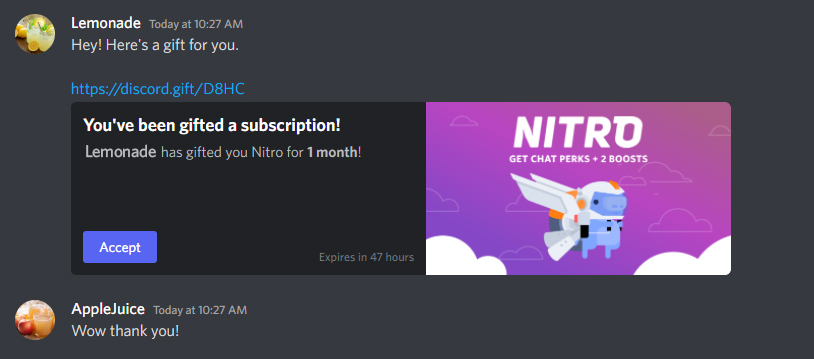 Purchasing a Gift On Mobile
You can gift Nitro and Nitro Basic through iOS and Android devices! Here's how.
1. Swipe right, then select your account avatar at the bottom of your mobile device's screen to open up User Settings. Press on Nitro Gifting.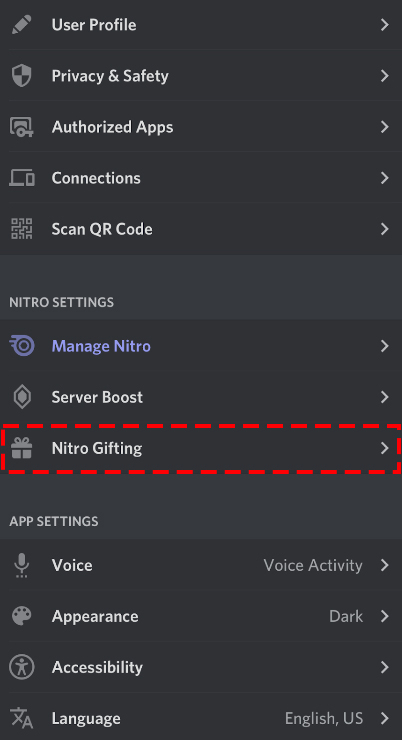 2. Choose to purchase either Nitro or Nitro Basic for your gift and follow the prompts.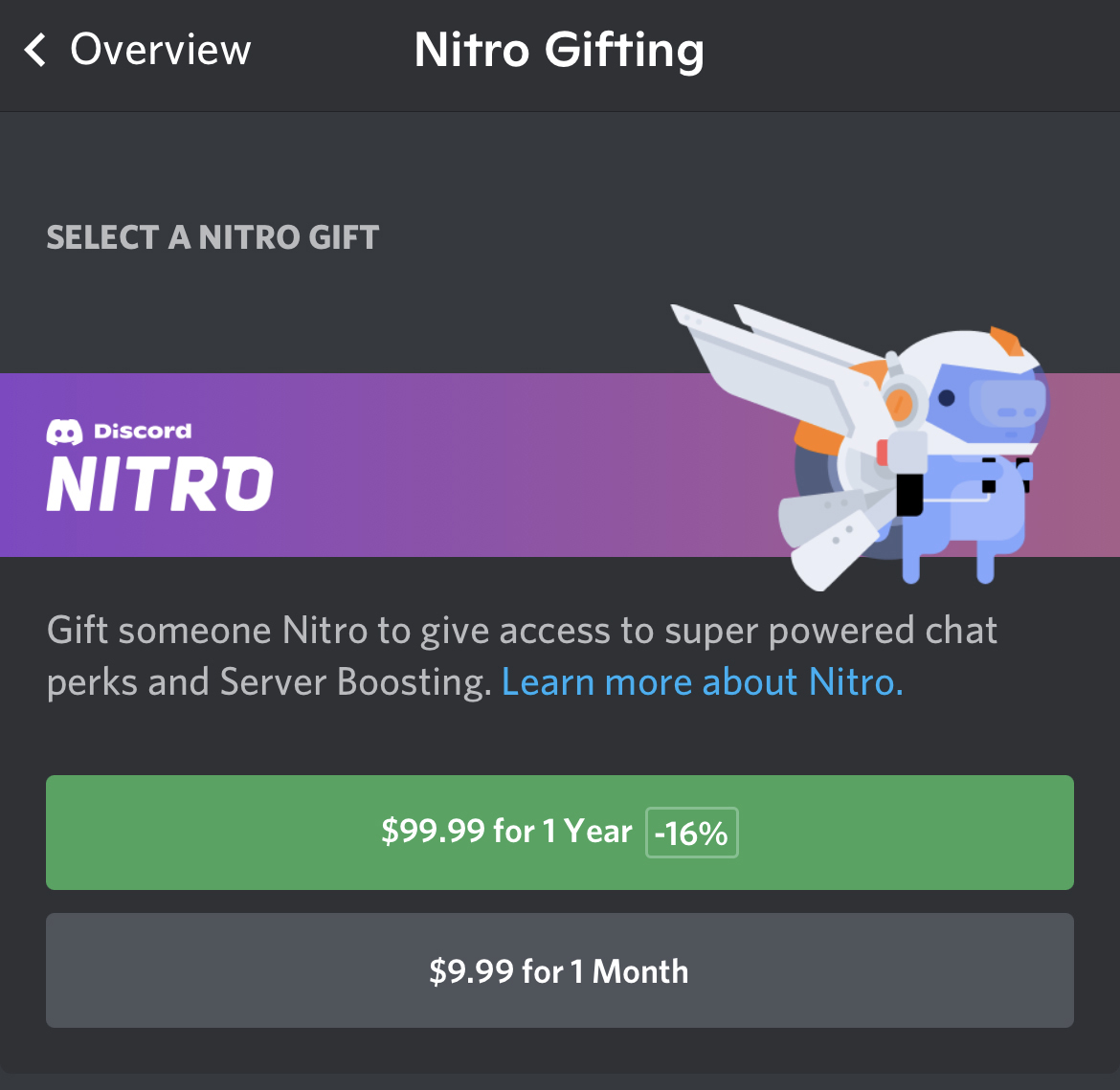 3. Once the purchase is complete you'll get a sharable link to share with someone. You can also go to User Settings > Nitro Gifting and generate a new link if needed.
The refund policy also applies to both iOS and Android, once a gift of Nitro or Nitro Basic has been claimed by another user you (or this user) won't be able to unclaim the gift. Our support team is unable to issue a refund for any claimed gifts. Our standard refund policy applies, if you are on iOS please reach out directly to Apple to request a refund. If you are on Android, please reach out to our billing team within 5 days of the initial purchase date to request a refund.